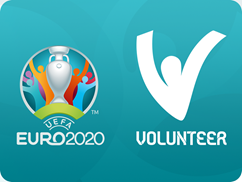 Volunteer Resources
COVID Protocols
Daily Epidemiological Acknowledgement Form submission
All volunteers are required to complete the EPA form linked below each day before arriving on mission. Please ensure you submit the EPA form at least 10 minutes before arriving for your mission. Your accreditation will be declined on entry if you have not submitted the EPA form. Please note that there will be an EPA help office on site for anyone who encounters any difficulties with completing the form online.
UEFA General Health and Safety Instructions 
All volunteers should read and familiarise themselves with the information provided in the UEFA General Health and Safety Instruction document.
Please ensure you follow all Health and Safety instructions when on venue for your missions.
UEFA General Safety & COVID-19 Procedures Briefing
Completion of the briefing is mandatory to obtain your accreditation for UEFA EURO 2020. Make sure you bring a copy of the certificate, either printed or screenshot, when collecting your accreditation. Failure to provide proof of completion will result in accreditation not being issued.
The briefing can be accessed by clicking on the link below: https://vops-learning-certificate.uefa.ch/euro2020
Games hosted at Hampden Park in 2021
Glasgow's UEFA EURO 2020 Fixtures
Monday 14 June
Scotland 0-2 Czech Republic
Friday 18 June
CROATIA 1-1 CZECH REPUBLIC
Tuesday 22 June
Croatia 3-1 Scotland
Tuesday 29 June
Sweden 1-2 Ukraine (AET)
Download the UEFA EURO 2020 App