Glasgow's hosting of EURO 2020 aims to have a lasting legacy and a significant impact on the next generation of footballers who will benefit from a range of programmes as well as the excitement of seeing the tournament being played in their country.
To celebrate Glasgow's role as one of the 11 host cities, the Scottish FA teamed up with Glasgow Life to release 50 individual UEFA EURO 2020 Club Legacy Packs to enhance the provision of grassroots football activities in Scotland. These packs have been distributed to 50 clubs which hold Scottish FA Quality Mark accreditation both in Glasgow and elsewhere across the nation.
The packs contain specialist equipment including balls, bibs and goals which will play a pivotal role in the provision on football activities to assist the development of young footballers in Scotland.
HARMONY ROW FOOTBALL CLUB
Govan side Harmony Row, the youth team that nurtured a young Sir Alex Ferguson, were the first club to receive a pack in support of their excellent community links across the city, spanning many decades. 
Commenting on the UEFA EURO 2020 Legacy Packs, Sir Alex Ferguson said "Lockdown has been a difficult time for all of us but for kids especially. It's fantastic to see my old boys club, Harmony Row, benefit along with other youth clubs and it's an important part of qualifying from the Scottish FA and the city: to make sure that it has a direct benefit to young people. Harmony Row played a pivotal role in my development from a very young age, not only as a footballer, but as a person."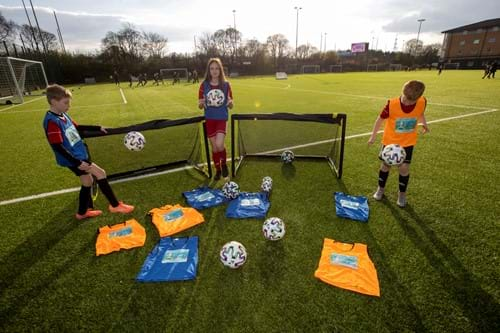 HAMPDEN FOOTBALL CLUB
Scott Brisbane, Club Secretary of Hampden Football Club, commented: "Scotland's qualification has given kids a newfound love for football. Especially with all the buzz in our local area with Hampden Park being so close, we have had lots of interest from parents looking to see if they can join Hampden FC. Picking up the club legacy pack will help us greatly. We applied as the equipment will be a much-needed addition to the equipment we use for training. Not only will this equipment help our current squads, but it will be great to pass down to any new age groups that are formed."
POLLOK UNITED FOOTBALL CLUB
Meanwhile, Southside club Pollok United have been rewarded for excellent community links which has allowed the team to offer around 500 locals players of all ages the opportunity to participate in the sport. With a range of partners, including Glasgow Clyde College, the club has also developed a number of social welfare campaigns to tackle bullying, racism and mental health issues through the provision of football activities. In addition to receiving the legacy packs, Pollok United will also be represented in Scotland's UEFA EURO 2020 opener against the Czech Republic as 22 club members prepare to take centre stage as match mascots at Hampden Park.
Andy Elliott of Pollok United said: "Scotland's qualification has created a buzz around the club and we have seen a dramatic increase in new members wishing to join, in particular our mini kickers section is bursting at the seams - we have had to double the number of coaches and space that we use to accommodate the numbers! Due to the significant increase in our members, we badly needed more equipment and aim to deliver a legacy in our area. This additional equipment will allow us to do that and we are so grateful to have been selected."
MURIESTON FOOTBALL CLUB
Established in 1985. The Livingston-based team will use the equipment to cater for their 350 registered players. The club pride themselves as being at the heart of their community and have been commended for providing an excellent player pathway which has played a role in the development of international stars including Scott Arfield, Jenna Fife and Hayley Lauder.
Allan Salvona, Treasurer of Murieston United Community Football Club, said: "Scotland gaining qualification has given our members a real buzz again. It's allowed coaches of our younger team to encourage some of the players to be like their heroes that qualified for the EUROs. Some of the younger players are now feeling inspired to be like Scotland internationals." The team are also making the most of the occasion and are using it as a chance to come together after a challenging year. Allan added, "The equipment on offer will also allow us to continue hosting a range of exciting initiatives that we plan to hold over the coming weeks."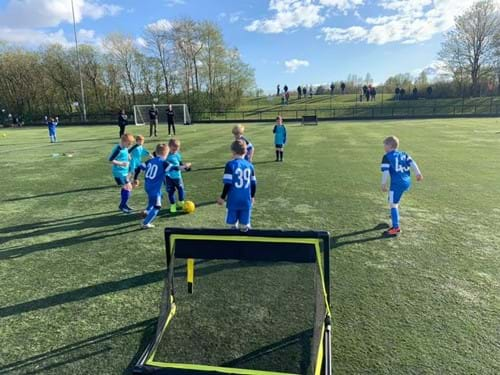 GLASGOW CITY FOOTBALL CLUB
Jamie Beattie, Football Development Officer at Glasgow City FC commented: "We are honoured to be chosen as one of the 50 clubs to be given a legacy pack. The pack is going to help our junior academy teams, giving them vital equipment they can use for training sessions, but will also allow us to engage our community programmes which will start in the summer."
CLUB LEGACY PACKS IN ACTION
Games hosted at Hampden Park in 2021
Glasgow's UEFA EURO 2020 Fixtures
Monday 14 June
Scotland 0-2 Czech Republic
Friday 18 June
CROATIA 1-1 CZECH REPUBLIC
Tuesday 22 June
Croatia 3-1 Scotland
Tuesday 29 June
Sweden 1-2 Ukraine (AET)
Download the UEFA EURO 2020 App