Spotlight on Schools...Learning Through Football in action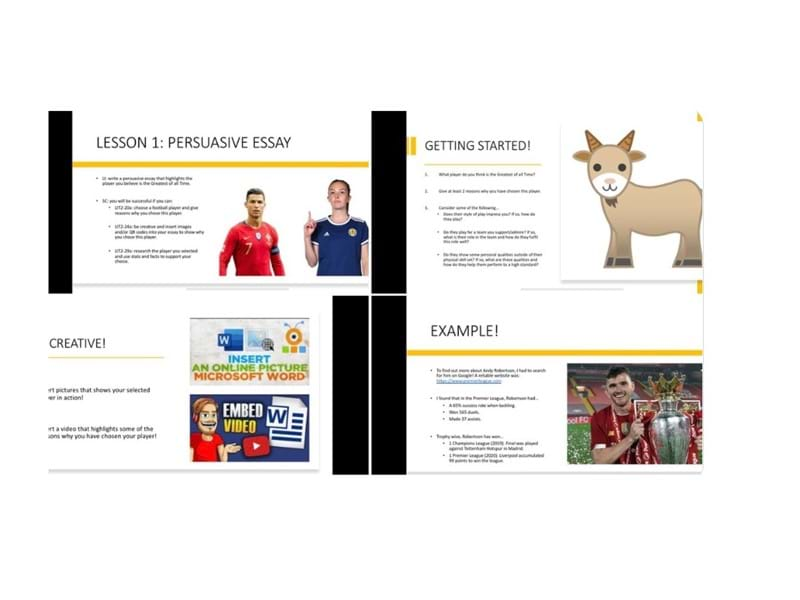 Through the hashtag #LearningThroughFootball, school teachers across the nation have been sharing their experiences of bringing the UEFA EURO 2020 teaching resource to life inside the classroom or from home.
In the first of our 'Spotlight on Schools' series, we speak to one of the early adopters of Learning Through Football, Mr Anderson, who has already celebrated football's new edition to the curriculum at Madras College in St Andrews.  
Since discovering the tool through social media, Mr Anderson has since become a strong advocate for capitalising on the excitement surrounding Scotland's qualification for the tournament and ensured that it will have a positive influence on studies across the campus.
Speaking about his decision to take advantage of the free project ideas, which are centred around key Curriculum for Excellence outcomes, he explained, "I love the ideas behind them. I particularly like how they tie into the literacy benchmarks as it makes the interdisciplinary learning more meaningful. It has also improved my own knowledge as I learn how to bring PE and English together in more specific ways that can then have a real impact on my pupils' learning."
🚨 LITERACY THROUGH ⚽️

Created a second lesson using @GlasgowEURO2020 idea's to develop literacy through football.

✍️📰 Match Report: 🇷🇸 vs 🏴󠁧󠁢󠁳󠁣󠁴󠁿

🔍🧐 Research background info!
🎨🎥 Describe key points in detail!
📝📊 Summarise!

Literacy benchmarks included. Happy to share 🚀 pic.twitter.com/NOBBn10AHN

— Mr Anderson (@ando1410) January 15, 2021
In addition to excellent uptake from teachers, pupils have also signalled a great interest in the range of activities which have provided valuable insight into the world of the Scotland National Team and broader football industry.
"The pupils are loving it. We have a number of children who don't particularly enjoy English or more theory based subjects in school but they are engaging with these tasks," Mr Anderson added.
"Doing it through football is the hook that is motivating them to do the work. We even have kids doing the tasks at 9am on a Monday morning so they are prioritising it!"
IMPROVING LITERACY THROUGH ⚽️

Alongside some ball mastery, S2 Electives will do a task each week to develop literacy skills.

Week 1:
Persuasive essay on who they believe the greatest of all time is! 🐐

Links into literacy benchmarks!

Happy to share @GlasgowEURO2020

❤️⚽️ pic.twitter.com/Q6qME7ukBG

— Mr Anderson (@ando1410) January 8, 2021
The digital tool provides more than 40 project ideas linking to the Curriculum for Excellence outcomes including maths, science and social studies, in addition to literacy which has been the main focus of Mr Anderson's S2 class.
Recently, pupils have been honing their writing skills by forming persuasive essays which have sparked debate around footballing GOAT's and highlighted traits ranging from Lionel Messi's 'god given talent' to Diego Maradona's renowned 'attitude and work rate.'
Check out some of the fantastic examples of work below debating the greatest player of all time - which S2 pupil do you agree with? 
Mr Anderson explained: "Through the persuasive essay, it is making pupils use higher-order thinking skills as they had to justify and evidence why they selected the player they thought was the greatest of all time.
It is also improving their digital literacy as they are carrying out research on the internet and for some, giving them a platform to be creative as they personalise their work with different colours and fonts.
Further to that, they are learning how to upload video's and images from Google on to their work to really exemplify points made."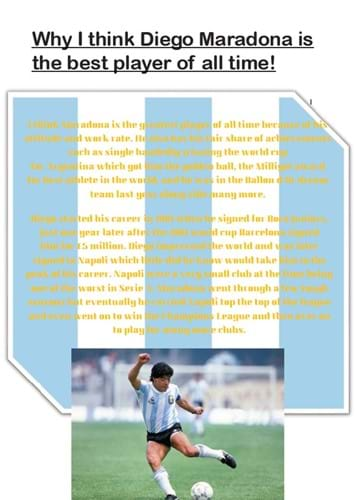 Check out Sean's match report covering the Scotland v Serbia match that saw the national team qualify for the EUROs! 
EURO 2020 legacy 
The free-to-access online resource for teachers across Scotland has been developed by the Scottish FA in partnership with Glasgow's Physical Education, Physical Activity and School Sport (PEPASS) team and Glasgow City Council Education Services and is fully linked to the Curriculum for Excellence (CfE). 
Based on the established 'inter-disciplinary learning' model, Learning Through Football includes more than 40 activities for teachers to download and deliver and aims to capture the excitement of UEFA EURO 2020 being hosted in Glasgow as well as of course, the Scotland Men's National Team historic qualification for the tournament.
For more details on the Learning Through Football resource, click here. 
Games hosted at Hampden Park in 2021
Glasgow's UEFA EURO 2020 Fixtures
Monday 14 June
Scotland 0-2 Czech Republic
Friday 18 June
CROATIA 1-1 CZECH REPUBLIC
Tuesday 22 June
Croatia 3-1 Scotland
Tuesday 29 June
Sweden 1-2 Ukraine (AET)
Download the UEFA EURO 2020 App