All the latest on UEFA EURO 2020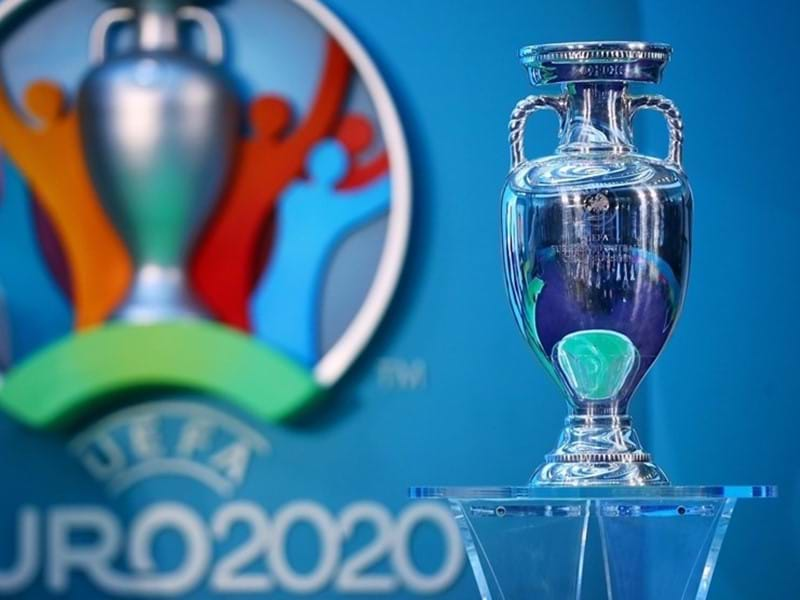 As the Scotland team complete their latest triple header and return to home soil, we summarise the latest information on the special tournament that they will play in next summer. For all your up to date news, stay tuned to this official channel.  
Format
Held for the first time in tournament's history in this format, 12 cities will host UEFA EURO 2020 to mark the 60th anniversary of the competition and to bring the action closer than ever before to the fans. 
The 60th edition of the UEFA European Championship was postponed in March this year, following the global COVID pandemic, until summer 2021. The new dates are 11 June – 11 July. The tournament will still carry the title 'EURO 2020'.
In June 2020, all 12 original host cities reconfirmed their commitment to host in summer 2021. Host cities are Amsterdam, Baku, Bilbao, Bucharest, Budapest, Copenhagen, Dublin, Glasgow, London, Munich, Rome, St Petersburg. Rome will host the opening game on 11 June 2021 and London will stage the semi finals on 6th and 7th July and final on 11 July.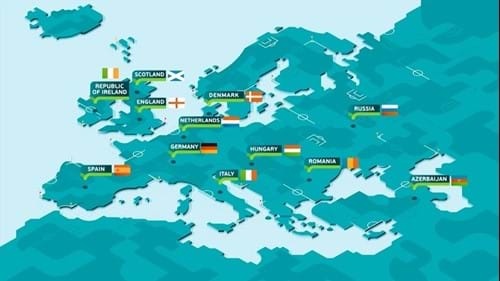 Read more about the announcement in Glasgow of the reconfirmation here.
Find out more about each of the host cities here.
Find out how the tournament is structured in the video below: 
Who has qualified
Group A: Italy, Switzerland, Turkey, Wales
Group B: Belgium, Russia, Denmark, Finland
Group C: Ukraine, Netherlands, Austria, North Macedonia
Group D: England, Croatia, Czech Republic, Scotland
Group E: Spain, Poland, Sweden, Slovakia
Group F: Germany, France, Portugal, Hungary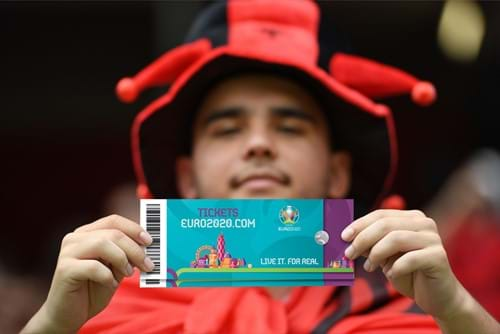 Tickets
The official UEFA ticket portal for EURO 2020 opened in summer 2019 and UEFA received a record number of applications. Read more on this here. 
At the moment, there are no tickets on sale for EURO 2020. Further information on tickets will be available in 2021 from UEFA.
Visit euro2020.com/tickets regularly for updates. 
Existing tickets are still valid. The match number, location and teams remain the same, only the dates have changed. 
Match dates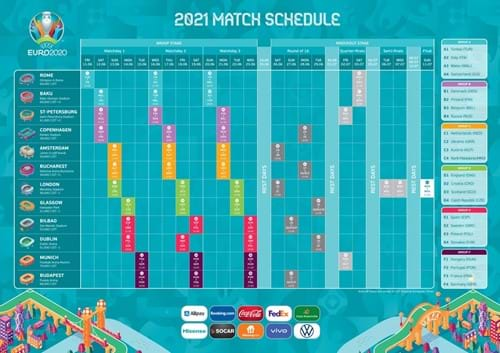 Download your copy of the final match schedule. 
As a qualified host for UEFA EURO 2020, Scotland will play two home matches at Hampden Park, Scotland's national stadium.
Hampden Park will host 4 matches in the tournament, 3 group stage and a round of 16. 
Scotland will travel to Wembley to play England on 18 June, with England playing all their games at home due to early qualification. 
Scotland matches: 
Scotland v Czech Republic
Monday, 14 June 2021, kick-off 2pm
Hampden Park
England v Scotland
Friday, 18 June 2021, kick-off 8pm
Wembley Stadium
Croatia v Scotland
Tuesday 22 June 2021, kick-off 8pm
Hampden Park
All matches at Hampden Park: 
Group stage
Scotland v Czech Republic
Monday 14 June 2021, kick-off 2pm
Croatia v Czech Republic
Friday, 18 June 2021, kick-off 5pm
Croatia v Scotland
Tuesday 22 June 2021, kick-off 8pm
Round of 16 
1E v 3A/B/C/D
Tuesday 29 June 2021, kick-off 8pm
A full list of all match fixtures. 
Volunteering
There are 2 Volunteer programmes for the tournament: UEFA EURO 2020 Volunteers and Volkswagen Mobility Makers (Glasgow city's programme). 
UEFA Volunteer Programme
Following Scotland's qualification, the UEFA EURO 2020 Volunteer Management Team has received a huge number of enquiries about volunteering at the tournament next summer. A recruitment campaign was run in 2019 and since the rescheduling of the tournament, all roles, including the stand-by list, have been filled. Applications are currently closed and updates will be posted on this website. 
Read more on the UEFA EURO 2020 Volunteer Programme. 
For enquiries: gla.volunteer@euro2020.com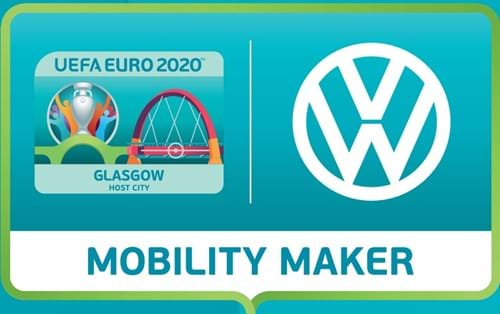 Mobility Makers 
Volkswagen Mobility Makers will interact with spectators in the Fan Zones, Glasgow City Centre, along the walking routes to Hampden Park and at selected Scottish Airports. Volkswagen Mobility Makers will undertake shifts during the period 11 June 2021 – 11 July 2021.
Those who were previously confirmed as part of this programme will soon receive a communication from the team in order to reconfirm roles.
Stay tuned in early 2021 for news on applications reopening if required.
For enquiries: HostCityVolunteers@UEFAEuro2020Glasgow.co.uk
For more information: www.glasgowlife.org.uk/get-involved-glasgow/uefa-euro-2020  
Stay informed
Check out our key dates page for all the dates for your diary. 
Keep checking the website and our social media channels for the latest official news on UEFA EURO 2020 Glasgow. 
Follow us @GlasgowEURO2020: 
Games to be hosted at Hampden Park in 2021
Glasgow's UEFA EURO 2020 Fixtures
Monday 14 June
Scotland VS Czech Republic
Friday 18 June
CROATIA VS CZECH REPUBLIC
Tuesday 22 June
Croatia VS Scotland
Tuesday 29 June
ROUND OF 16 MATCH
Download the UEFA EURO 2020 App