UEFA EURO 2020 Long Term Volunteers celebrated as Volunteer Centre closes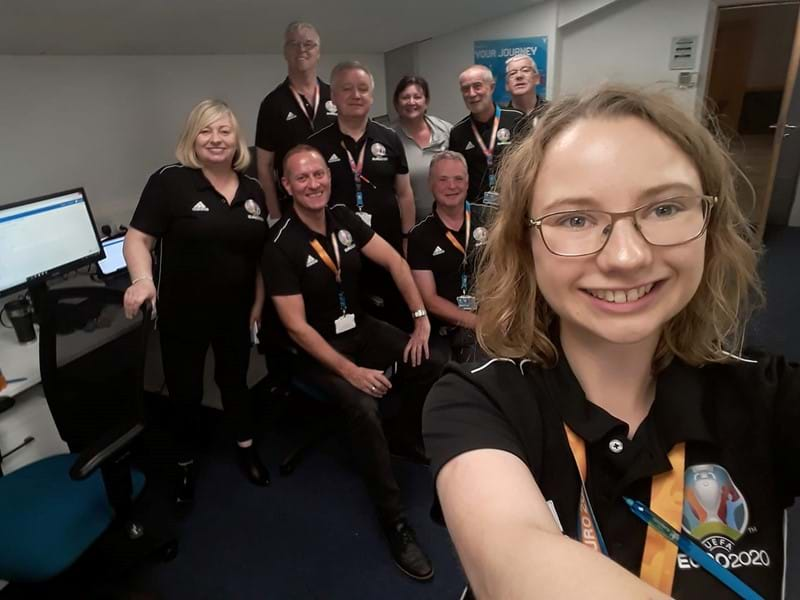 Following a successful summer of interviews, the UEFA EURO 2020 Volunteer Recruitment Centre closed its doors earlier this month. 
A team of 39 Long Term Volunteers (LTVs) supported the Volunteer Management Team by helping to schedule interviews, welcome candidates, conduct interviews and fit uniforms. 1,500 enthusiastic prospective volunteers passed through the Recruitment Centre at Hampden Park over its 12 weeks of operation. 
The Volunteer Management Team could not have done it without the help of the LTVs, who contributed a total of 4,000 volunteer hours between them to support the Centre's smooth running. An incredible 2,000 people applied to be part of the programme when it opened in June, launched by Volunteer Ambassador, Martin Compston.
39 Long Term Volunteers

4,000 Volunteer hours 

5 training days

40 briefings

120 welcome briefings

1,500 interviews held 

1,500 uniforms fitted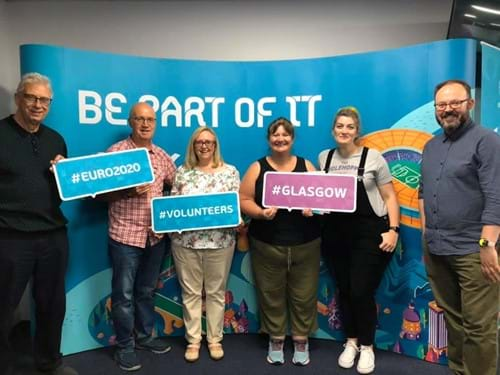 Claire Garratt, UEFA EURO 2020 Volunteer Manager, said, "Our Long Term Volunteers have been a huge support to myself and the Volunteer Management Team. It has been amazing to have such friendly faces welcome our interviewees and give them the best experience possible at interview and uniform fitting. We have had an amazing summer and we can't thank everyone enough for their passionate support."
Charlie Coogans, 66, one of the Long Term Volunteers, said: "I had a fantastic experience as part of the Long Term Volunteer team, it was such a positive environment and we all bonded so well. It was so interesting to meet so many people at their interviews. It has inspired me to also volunteer at the Betfred Cup Final in December and to continue with the LTV Programme and work towards this amazing event in June 2020, it will be spectacular!" 
Jess Barrows, 25, said: "The Volunteer Management Team were so welcoming and supportive, they were very considerate with my volunteering days and really supported our team bonding. The whole team were so proud to be involved and we all wanted to provide the highest possible standard of experience that we could for the interviewees. It was so inspiring to meet so many people from so many different backgrounds in the interviews, I loved it!"
As one door closes, another opens and the next chapter in the process begins; prospective volunteers who have been successful in securing a role will be contacted in the coming weeks and the UEFA Volunteer Mangement Team, supported by some of the Long Term Volunteers who will stay on to continue their roles, will be aiming to lock in up to 1,000 Volunteers between now and Christmas.
Check out our FAQs section for any queries.
Games hosted at Hampden Park in 2021
Glasgow's UEFA EURO 2020 Fixtures
Monday 14 June
Scotland 0-2 Czech Republic
Friday 18 June
CROATIA 1-1 CZECH REPUBLIC
Tuesday 22 June
Croatia 3-1 Scotland
Tuesday 29 June
Sweden 1-2 Ukraine (AET)
Download the UEFA EURO 2020 App