Aberdeen legend unites with football reminiscence group which supported members with Alzheimer's during lockdown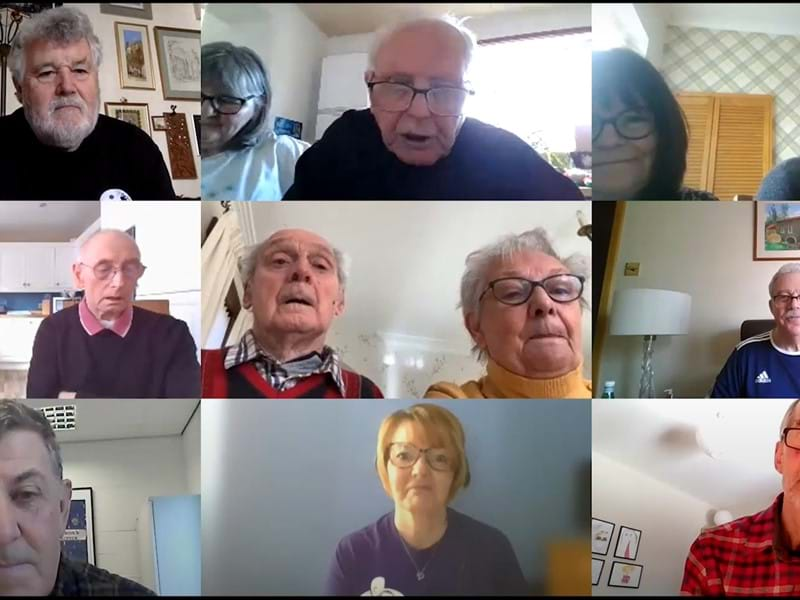 Mark McGhee assisted members of a Football Memories group as they selected a 'dream team' from a deck of European Legends playing cards - launched to celebrate Glasgow's co-hosting of UEFA EURO 2020.
Former Scotland assistant manager Mark McGhee joined members of an Aberdeen and Dundee Football Memories group to aid in the selection of a 'dream team' by using a deck of European Legends playing cards which kept members connected throughout lockdown.
To celebrate the 60th anniversary of the UEFA European Championship, a deck of 60 European Legends playing cards has been released, building a legacy for Glasgow's co-hosting of the competition.
250 decks of cards, which features iconic players and managers from 1960-1990 chosen by Football Memories participants around Scotland, have been issued to groups to allow volunteers and members to select a 'Legends XI' and reminisce about a golden age of football.
With its headquarters at Hampden Park, Football Memories Scotland is a partnership between Alzheimer Scotland and the Scottish Football Museum which supports football fans who are living with dementia, other forms of memory loss, and individuals who suffer from loneliness, depression and social isolation.
As lockdown restrictions were introduced, many of the groups altered their format to run online, whilst continuing to use old football images, artefacts and sensory objects, to spark conversation and keep members in regular contact through their memories of the national game.
Mark McGhee, said: "Using the European Legends cards helped to rejog my own memory about some of the icons that I grew up watching, and even a few who I had the pleasure of playing against. I feel privileged to have been invited along to take part in a Football Memories session and it is clear to see how highly the groups are valued by each of the members.
"This summer's EUROs are set to create a lasting memory across the nation, and it is special to have witnessed how the football community has directly benefited already."
Since the European Legends playing cards were issued, several groups have taken the opportunity to simulate the decisions faced by Scotland manager Steve Clarke as they decided which players would make their dream team. As one group consisting of members from Aberdeen, Moray and Tayside were debating over the remaining spots, they were surprised by a guest appearance from Mark McGhee.
The former member of Scotland's backroom staff provided the all-important insight on some of the European legends he faced before having the final say on some of the remaining positions.
Alan Johnstone, Football Memories Scotland Area Co-Ordinator, said: "It was special to welcome Mark along to experience our Football Memories group as he is a familiar face to many of our members who watched him from the terraces on countless occasions. You could see the lift it gave the groups who hung onto every word as he fascinated us with stories and recollections of players and matches from a passed era.
"The European Legends cards have played a key role in keeping our community connected during a difficult period and would like to thank Mark for helping us to finalise the squad. I would thoroughly encourage people of all ages to take advantage of the cards and online resource to connect ahead of this summer's competition."
Football Memories
Established in 2009, the Football Memories project is the oldest national football reminiscence programme in the world.
The project not only aims to help Alzheimer's and dementia sufferers but also community groups tackling social isolation and mental health, with around 2,500 people participating in the programme each year.
Read more
You can read more about the European Legends cards as part of the suite of legacy projects for UEFA EURO 2020 Glasgow and select your own dream team here.
Games hosted at Hampden Park in 2021
Glasgow's UEFA EURO 2020 Fixtures
Monday 14 June
Scotland 0-2 Czech Republic
Friday 18 June
CROATIA 1-1 CZECH REPUBLIC
Tuesday 22 June
Croatia 3-1 Scotland
Tuesday 29 June
Sweden 1-2 Ukraine (AET)
Download the UEFA EURO 2020 App