Memory Makers #5 - the people helping to create football memories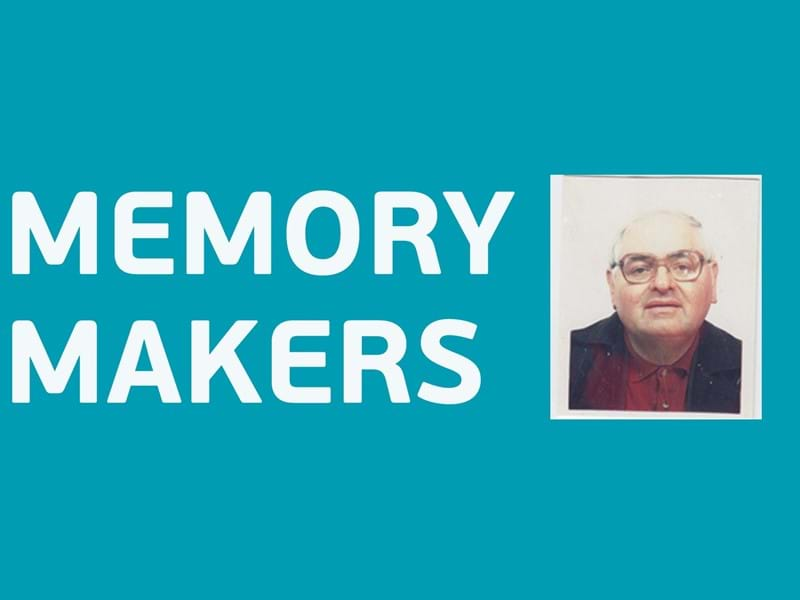 As our Memory Makers series reaches its fifth instalment, we chat to Patrick Woods, Celtic fan and member of  the 'Hampden Club' Football Memories Club since its initiation. Patrick, now 74, got involved after hearing about the project from friends and attended the group regularly prior to lockdown.
"It is important that our Football Memories are preserved for posterity, given that the game has meant so much to so many for approximately 150 years."
Patrick is an avid and longstanding football fan with his earliest memory listening to radio commentary of the 1953 Coronation Cup Final between Celtic and Hibs. That broadcast made him feel like he was actually at Hampden Park watching on.
His passion for the game blossomed after this and in the 68 years since then he has faithfully followed his club, home and away, sharing in its triumphs and tragedies.
For him, one event stands out in Celtic's history. In 1967, he was at the Estádio Nacional in Lisbon for Celtic's European Cup Final against Inter Milan. Being a part of that hallowed night for his club and witnessing the Lisbon Lions triumph was a truly magical moment, he explained:
"It's a memory that will never leave me."
"I think the group heightens every members enthusiasm for the history of the game in Scotland. You can sense the stimulating effect of our meetings, thanks in no small part to our diligent and inspiring co-ordinator Robert Harvey."
History, and in particular, the social history of football is what Patrick finds fascinating. Over the decades he has faithfully collected clippings and cuttings, photographs and memorabilia, all related to his team, Celtic.
In 2019 he donated this collection, which contains 46 volumes on the 1967 European Cup Final alone, to the club for inclusion in their records. He is also recognised as one of Celtic's most important historians, writing and collaborating with other writers, among them Lisbon Lion Jim Craig, and writing several definitive volumes on the club and its legends.
Football Memories fuels Pat's passion. The activities the group get involved in allow them to delve further into the history of the game and recall fond memories.
Patrick also says that the invited guests, among them players he used to watch from the stands, offer much to sessions and are interesting and informative. On top of this, the camaraderie of the group and the efforts of the volunteers means that the project is one he thoroughly enjoys being a part of.
The warmth and 'convivial atmosphere' is a real motivation to keep coming back. When asked about a favourite memory he said you couldn't pick just one.
'I would not single out anybody or anything. I have enjoyed every moment.'
The pandemic has meant that the Football Memories programme has had to adapt which has taken some getting used to. Patrick said that his lack of social media skills has limited his contribution to discussions but that the technology has allowed him to still be involved by helping to revise quizzes and answer questions.
Scotland's qualification has provided a point of joy which he is looking forward to discussing in more depth once face-to-face meetings are able to return.
While the wait continues, he is happy that the group has been able to remain in contact.
'It is marvellous that meetings can still be held via the likes of Zoom which is an essential bridge to the longed-for return to normality for everyone.'
PICK YOUR OWN DREAM TEAM!
To mark Football Memories place as an official legacy project of UEFA EURO 2020 Glasgow, a special commemorative deck of cards has been produced to support the groups around Scotland.
You can now select your very own Legends line-up from across the decades! Visit our Dream Team picker page, submit your choices and share your line-up on social media! 
Check out the Legends Gallery to see all players chosen across the 60 years by both Team United and the Football Memories groups. 
European Legends is one of the Scottish FA's legacy projects for UEFA EURO 2020 ensuring that the reach and impact of the tournament extends as far and as deeply as possible around the country. Read more about the launch of the Football Memories European Legends Reminiscence Cards here. 
Games hosted at Hampden Park in 2021
Glasgow's UEFA EURO 2020 Fixtures
Monday 14 June
Scotland 0-2 Czech Republic
Friday 18 June
CROATIA 1-1 CZECH REPUBLIC
Tuesday 22 June
Croatia 3-1 Scotland
Tuesday 29 June
Sweden 1-2 Ukraine (AET)
Download the UEFA EURO 2020 App