Memory Makers #4 - the people helping to create Football Memories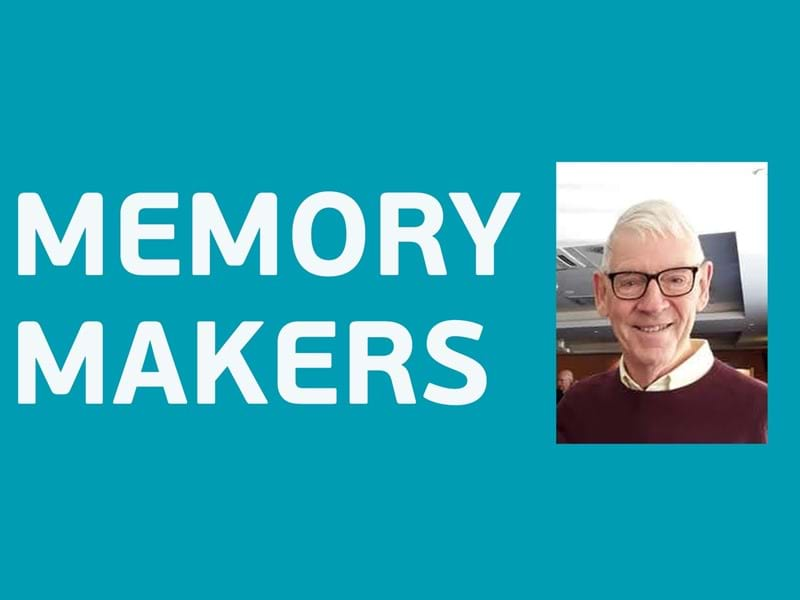 As an official legacy partner of UEFA EURO 2020 Glasgow, Football Memories Scotland has a special place in all our hearts. In our 'Memory Makers' series, we meet the people behind the scenes who help make this lifechanging project possible. Malcolm McIntyre is a member of the 'Hampden Club' Football Memories Group and he tells us why Football Memories is so important and the impact for the project of being part of the EUROs legacy.
"In Scotland it's League Cup final day at Hampden Park, where Celtic meet Partick Thistle, who have no chance.''
Those were the famous last words spoken by Sam Leitch on BBC Grandstand, hours before of one of the greatest shocks the national stadium's old terraces ever witnessed.
October 23, 1971 is a day which will live long in the history books of Partick Thistle FC; and even longer in the minds of Maryhill's diehard football fans. It was the day Davie McParland's newly promoted team conquered Jock Stein's European giants, sending tremors across the airwaves by inflicting a 4-1 defeat on a side featuring Scotland great Jimmy Johnstone, which had dazzled its way to the European Cup final the previous year.
An iconic report of the afternoon's proceedings in Mount Florida stated:
"The half-time score from Hampden Park and the Scottish League Cup final is Partick Thistle four, Celtic nil - but as soon as we have the correct, amended score, we will let you have it."
A scoreline which could only have been believed by the 62,470 in attendance at kick-off, plus many more who flocked to Hampden Park to catch a glimpse of history in the making following the half-time reports.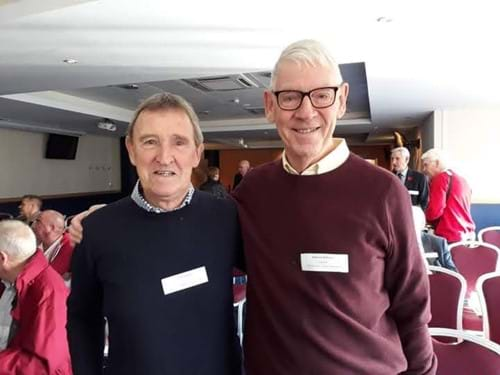 Malcolm pictures with Frank Coulston (left) who was one of the 1971 cup winning team.
For member of the Hampden Club group, Malcolm McIntyre, it was the high point in a tale of two League Cup finals which dominate his early football memories.
"What a night!", Malcolm recalled. In contrast, recollecting his earliest encounter with The Jags, Malcolm joked: "The 1958 Scottish League Cup final - Hearts 5 Partick Thistle 1. Despite that I still follow Thistle."
The journey of each Football Memories group member is unique; some have created their own moments of Scottish football history, whilst others have simply got involved through chance meetings with old friends.
For Malcolm, helping others in need has always been a passion. He explained: "I volunteer with another organisation and go every second week to talk about music, films and anything that gets the residents talking. I was asked by the care home if I would like to attend a Football Memories training course and it took off from there."
"It's uplifting to see the light in the faces of participants when they recognise a player or hear a name that sets them off on a story. It's not always necessarily linked to football, but maybe the journey getting there or the pub where they had a pint."
Like many other Football Memories sessions across Scotland, the Hampden Club has adapted superbly to keep members connected by any means possible during lockdown.
Thanks to the support of Alzheimer's Scotland and the resilience of members and volunteers alike, the group has continued to flourish online. Describing the unique bond of the members, Malcolm expressed: "The rivalry between our Celtic and Rangers gentlemen is for the most part fun. Sometimes we need to change the subject quickly but when I asked a Rangers supporter about his favourite Celtic player, he spoke really positively about several which was great."
"The Hampden group are a community of likeminded people. We may support different teams and have rivalries, but we are all great mates. Even during the pandemic, we are keeping in touch through email on a daily basis."
Almost two years on from his first involvement with the Hampden Club, Malcolm's commitment to attend meetings has become unrivalled and he has established himself as a popular figure within the group.
When asked about his main reasons for continued involvement with Football Memories, Malcolm responded: "The fellowship, banter and the stories. To hear stories from others and witness how it lights up their faces and gets them talking. It's a way of communicating that is quite unique."
"It keeps us motivated to stay involved, it is also great to talk about football with friends during a time when we can't see our families. This is a reminder of normality which is very important."
Whilst memories of the 1971 cup final will live with Malcolm for a lifetime, they were almost eclipsed by a recent meeting with one of Thistle's cup winning heroes due to the effect it had on those in his presence.
Speaking about his most memorable Hampden Club moment, Malcolm explained:
"It's always exciting when we get a star footballer along. For example, when ex-Scotland and Partick Thistle goalie Alan Rough walked into the room there was two men who just couldn't believe he was there and hung onto his every word, particularly when he talked about Argentina."
It's clear to see that legends of the 1978 World Cup in Argentina are still fondly remembered by many fans of a certain generation; Berti Vogts, Sepp Maier and Michel Platini to name a few.
Whilst the stars of the current game are set to shine under the new Hampden Park floodlights, Glasgow's joint hosting of UEFA EURO 2020 has ensured that the players of days gone by are still playing a part in capturing the imagination of fans who once sung their names.
EURO 2020 Legacy
The launch of a commemorative deck of European Legends playing cards, to celebrate Football Memories' place as an official UEFA EURO 2020 legacy project, has played a key role in resurfacing recollections of older fans, and even engaged youngsters who are preparing for their first experience of a major tournament.
Speaking about the deck of 60 special playing cards, Malcolm summarised:
"For me it brought back lots of memories of players that I had forgotten about. I got my 15-year-old grandson to do some research and he even helped me pick a European team using the playing cards."
Pick your own dream team!
You can now select your very own Legends line-up from across the decades! Visit our Dream Team picker page, submit your choices and share your line-up on social media! 
Check out the Legends Gallery to see all players chosen across the 60 years by both Team United and the Football Memories groups. 
European Legends is one of the Scottish FA's legacy projects for UEFA EURO 2020 ensuring that the reach and impact of the tournament extends as far and as deeply as possible around the country. Read more about the launch of the Football Memories European Legends Reminiscence Cards here. 
Games to be hosted at Hampden Park in 2021
Glasgow's UEFA EURO 2020 Fixtures
Monday 14 June
Scotland VS Czech Republic
Friday 18 June
CROATIA VS CZECH REPUBLIC
Tuesday 22 June
Croatia VS Scotland
Tuesday 29 June
ROUND OF 16 MATCH
Download the UEFA EURO 2020 App