100 days to go until EURO 2020 kicks off!

To celebrate 100 days until UEFA EURO 2020 kicks off on 11th June 2021, Scotland Head Coach Steve Clarke joined a press conference with a difference, hosted by the young people of Team United.
During lockdown, over 70 kids from the Edinburgh-based football club Team United, which supports young people with autism and helps them overcome social barriers, have been using the Scottish FA's European Legends legacy project as a means to stay motivated and connected.
Having chosen 60 of their favourite European football players last year, to mark the 60th anniversary of the European Championship, the young fans then had the hard task of selecting their final 11 and a manager. Their team line-up of the best players from the past 30 years of European football will form part of a new exhibition at the Scottish Football Museum.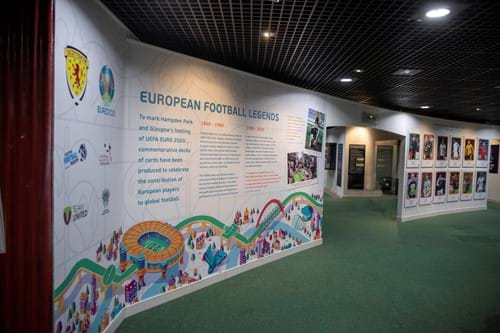 The kids were on a zoom call together debating their final eleven and a manager when a very special guest joined them by surprise.
As the boys mulled over the dilemma of Italian legend Paolo Maldini or Scotland captain Andy Robertson, founder of Team United, Ann Brown, told them: "Why don't we ask the Scotland Manager?"
Steve was met by stunned silence and shocked faces as he joined them on screen – insisting Andy had to be a first pick.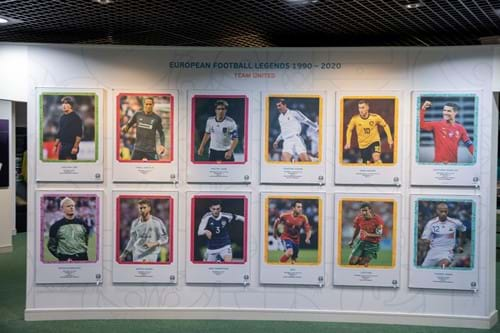 Team United's final 'dream team' line up of players active from 1990 - 2020
After helping them choose their team and making the case for a few Scotland legends, the manager took questions from the floor and found himself in the midst of an interrogation as rigorous as any post-match media conference.
"Are you coming to Celtic after the EUROs?" asked 15-year-old Hoops fan and Team United defender, Ben Lang.
"I'll be going on a long holiday after the EUROs," he laughed, "and I am contracted with Scotland until 2022 - when I'll hopefully be taking us to the World Cup in Qatar."
"And will there be any surprises when you choose the team for the World Cup qualifiers in March and for the EUROs?" asked United's flying winger and team statistician, 14-year-old Olek Kortals.
"There won't be too many surprises," he said, "but I need a bigger squad and we're playing three games in a week in the March qualifiers. And some might force their way in."
"The kids really know their stuff," said the Scotland Head Coach afterwards. "I was really impressed with their knowledge of the game and the questions they were asking – they were certainly keeping me on my toes. I'm just pleased that I gave them something interesting and enjoyable to talk about with their friends and family.
"Although it's only 100 days to go until the EUROs, I'm already aware of the impact qualifying can have on the whole country, especially during such a difficult and uncertain time. I'm proud that our achievement is already having a positive impact on people's lives."
"I thought it was tremendous and the boys excelled themselves" said Ann Brown of Team United.
"They love being a part of a team and the social interaction they have had, picking their dream team during lockdown, has been a joy to see.
"It keeps them connected to the sport they love and keeps them connected to their teammates. It's been a godsend to us and also to parents, for whom the past year has been a very challenging time.
"Steve was brilliant," Ann added. "He was really engaging and stood his ground on some tough questions. They got such a surprise when they saw him, and it took a lot for Steve to do this. He didn't know what was coming, he didn't know what questions they were going to ask, but he did amazing."
You can check out the full suite of 60 players chosen by Team United in the Legends Gallery 1990 - 2020. 
View the final 11 and a manager that made it into the Team United dream team. 
The Scottish Football Museum - home of the Legends exhibition
As the Scottish Football Museum hopes and prepares to welcome back visitors in the near future, the European Legends exhibition will be the latest jewel in the crown of special offerings. 
60 favourite players were chosen in early 2020 by Football Memories groups across the country (covering players active from 1960 – 1990) and together with the Team United selection, the 24 Legends now adorn the walls of the Museum. 
Robert Craig, Scottish Football Museum Chair, said: 
"The new European Legends exhibition at the Scottish Football Museum is a fantastic tribute to the passion we all feel in Scotland for football. We are delighted to showcase this gallery as part of the legacy of hosting as prestigious an event as UEFA EURO 2020 in the city.
"We are eagerly awaiting the return of visitors to the Museum to let them see this wonderful exhibition for themselves. I particularly welcome the input from Team United and Football Memories in bringing this exhibition together."
Richard McBrearty, Football Memories Scotland Programme Manager, said: "Being an official legacy project of UEFA EURO 2020 Glasgow has enabled us to engage our Football Memories groups across the country, making them feel part of this unique event.
"For our members to see their chosen players in this new exhibition is incredibly exciting and the corresponding reminiscence cards will support our groups the length and breadth of Scotland, for many years to come."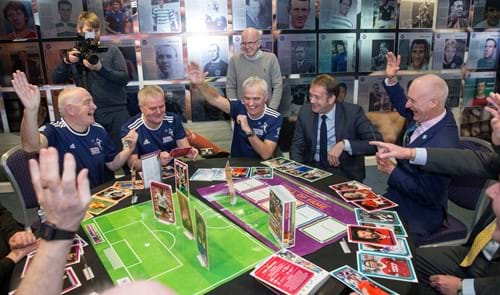 European Legends Football Memories Cards 1960 - 1990 launched at Hampden Park in February 2020. 
Who would make it into your dream team? 
You can now select your very own Legends line-up from across the decades! Visit our Dream Team picker page, submit your choices and share your line-up on social media! 
Check out the Legends Gallery to see all players chosen across the 60 years by both Team United and the Football Memories groups. 
European Legends is one of the Scottish FA's legacy projects for UEFA EURO 2020 ensuring that the reach and impact of the tournament extends as far and as deeply as possible around the country. Read more about the launch of the Football Memories European Legends Reminiscence Cards here. 
Volunteers celebrate
Everyone is looking forward to this summer's footballing action, few more so than our UEFA EURO 2020 Volunteers. Great to see Paul Collins celebrating the 100 days to go milestone at home with his family in Glasgow. We can't wait to welcome our Volunteers to Hampden Park soon!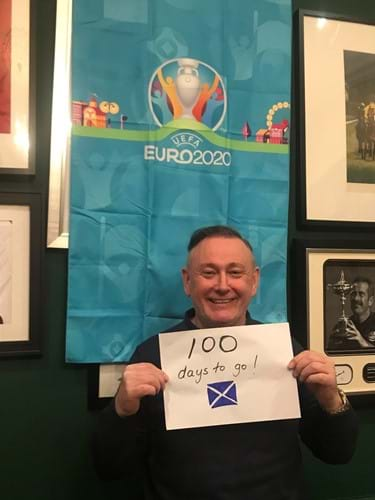 The European Legends Gallery at the Scottish Football Museum
Games hosted at Hampden Park in 2021
Glasgow's UEFA EURO 2020 Fixtures
Monday 14 June
Scotland 0-2 Czech Republic
Friday 18 June
CROATIA 1-1 CZECH REPUBLIC
Tuesday 22 June
Croatia 3-1 Scotland
Tuesday 29 June
Sweden 1-2 Ukraine (AET)
Download the UEFA EURO 2020 App