UEFA EURO 2020 - Audio Descriptive Commentary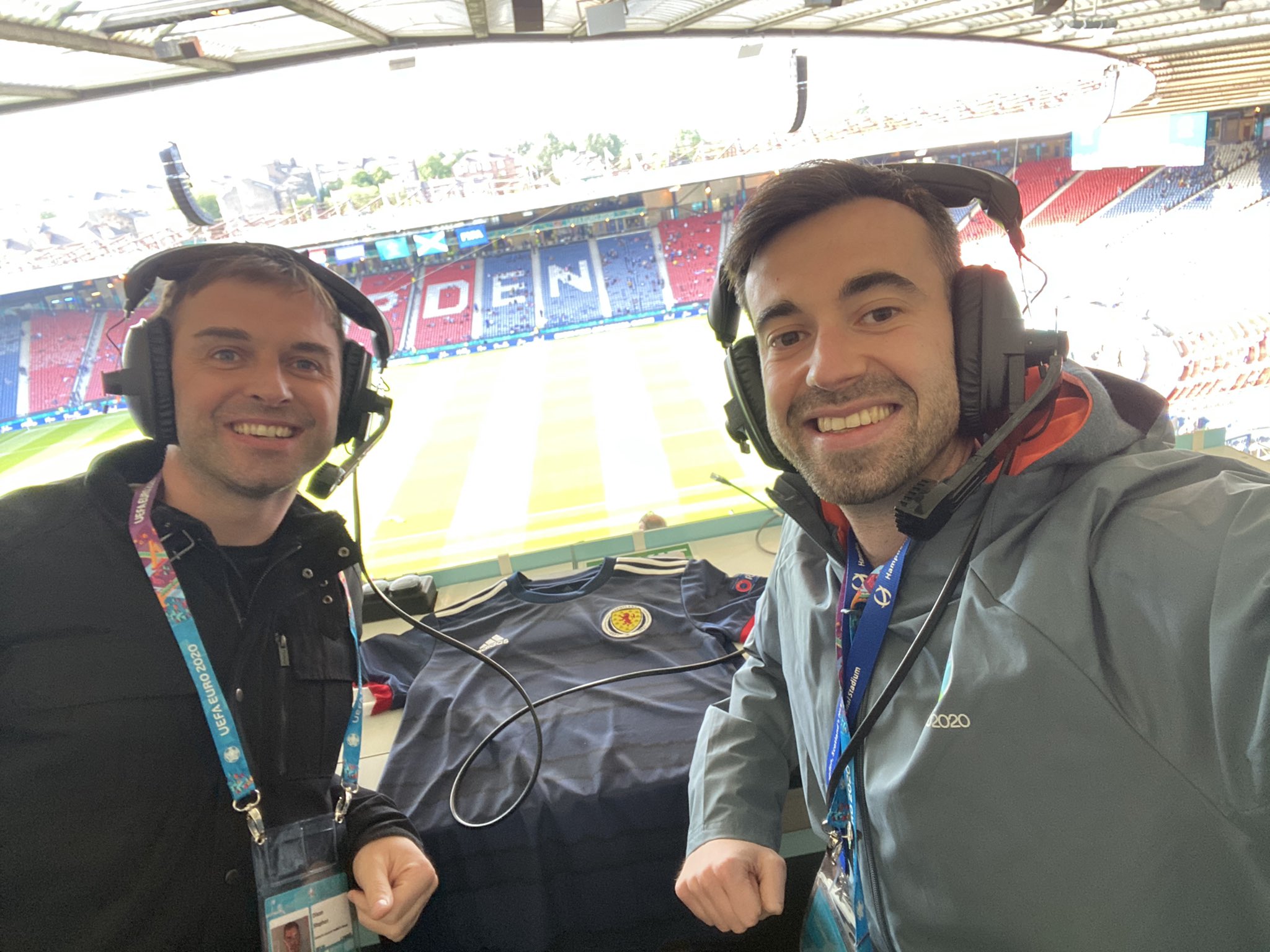 UEFA EURO 2020's audio descriptive commentary project has helped to enhance blind and partially sighted fans' match day experience at the tournament. 
As part of a suite of legacy benefits from Hampden Park's hosting of EURO 2020, future fans visiting the national stadium who require to use this support service or wish to use it, will be able to access one of 60 audio descriptive headsets at the stadium. 
🎙️ Funded by the EURO, an audio-descriptive commentary project which started in San Marino two years ago will reach its zenith at the #EURO2020 final, helping blind and partially sighted match-going fans enjoy the game.@cafefootball #ITA #ENG

— UEFA (@UEFA) July 11, 2021
Audio description (AD), is a specialist form of commentary which provides blind and visually impaired listeners detailed descriptions of events, surpassing that of traditionally broadcasted commentary. AD Commentators are trained to keep up with play to the second, focussing on the action, but also to provide important before and after care information for users.
In 2017 Alan Mach Sport (AMS) and  the centre for access to football in europe (CAFE) formed a partnership to provide english audio description at all major UEFA finals. For EURO 2020, the project was rolled out across all 11 host cities, with the aim of enhancing the spectator experience for supporters.
Here in Glasgow, applications to be part of the AD commentary team opened in 2019, with training seminars being hosted at Hampden Park by AMS and CAFE. The project was open to all applicants, and no past commentary experience was required. 
Applicant Stuart Spencer was chosen to be part of the audio descriptive commentary team at Hampden Park. We caught up with Stuart to find out more about the project and its use at UEFA EURO 2020. 
Stuart Said: "I've worked at Hampden Park since I was 17, starting with the catering company, to being a tour guide for the stadium & Scottish Football Museum, then being recruited with the stadium's Operations & Events team, and eventually being employed with the Scottish Amateur FA."
How did you first become interested in commentary?
"I had an interest in it when I was getting more into football. I used to think it would be pretty cool to go to different stadiums to commentate/report on football matches around the world."
How did you first get involved with audio descriptive commentary?
"I was told of the training/recruitment which was going on in the building for the EURO 2020 matches, delivered by Alan March Sport, and was encouraged to stick my head in and see how I got on. Many months later, along with training modules, I was offered the opportunity to do live commentary for all four matches, along with Stephen Dixon - who does Audio Descriptive Commentary for Hearts and Dundee."
What organisations are involved?
"We were trained by a company called Alan March Sport who source out commentary for different sports to help enhance the experience for sports fans. When we were recruited by AMS, we worked along the EURO 2020 provider of ADC Cafe Football, the company tasked with delivering ADC to all 11 host cities."
How does it enhance spectator experience?

"Audio Descriptive Commentary offers vision impaired and blind supporters the chance to listen to commentary whilst in attendance of the match. They can feel part of the action and be told information in their head about the colour of the football jerseys each team are wearing, what end are particular teams shooting towards and exactly where on the pitch the ball is."
What has the experience been like for you personally and what does the future hold?

"Personally, it was a fantastic opportunity for me and I was very fortunate to be tasked to commentate on the four EURO 2020 matches at Hampden - an experience I never thought I'd ever do. What was even better is that it was on behalf of two fantastic organisations (Alan March Sport and Cafe Football) that promote inclusion by helping those who, due to their impairments, do not get to enjoy the full experience of a football match. In terms of what the future holds, I'm just happy that this great service will potentially be offered to many fans that will visit Hampden Park."
Very fortunate to be given the opportunity to do live commentary for all four #EURO2020 matches at Hampden Park, on behalf of @AlanMarchSport and @cafefootball.

Two fantastic organisations that enhance the matchday experience for many partially sighted and blind fans. pic.twitter.com/TQ4ivR0WJX

— Stuart Spencer (@StuartSpencer92) July 1, 2021
Games hosted at Hampden Park in 2021
Glasgow's UEFA EURO 2020 Fixtures
Monday 14 June
Scotland 0-2 Czech Republic
Friday 18 June
CROATIA 1-1 CZECH REPUBLIC
Tuesday 22 June
Croatia 3-1 Scotland
Tuesday 29 June
Sweden 1-2 Ukraine (AET)
Download the UEFA EURO 2020 App