#EUROMEMORIES: Andy Roxburgh and Craig Brown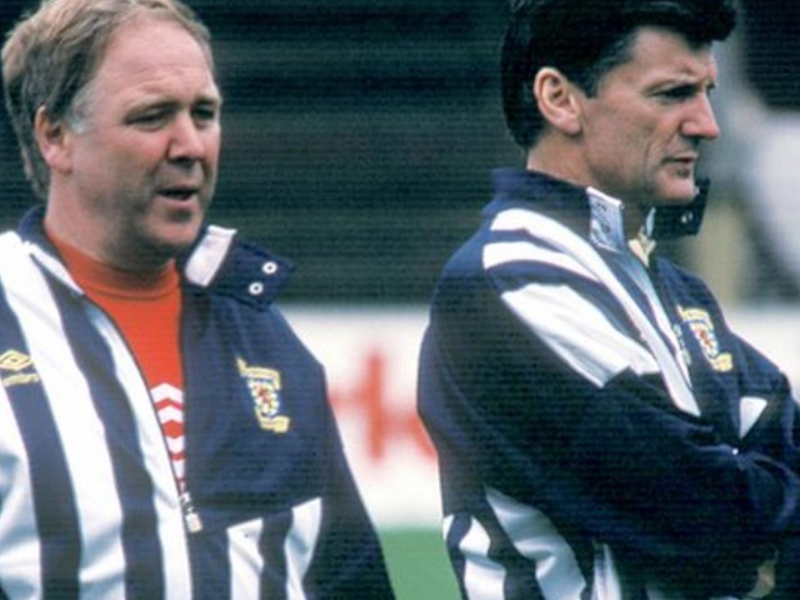 In football it takes the passing of time to broaden perspective and the full picture to emerge. Sometimes it takes weeks, in other cases months or years for the emotion fade and a true assessment to be made.
How will the 2-0 defeat to the Czech Republic stand in the wake of their 2-0 win over the Netherlands in the round of 16? When we finally see where England end up in the running, how impressive will that 0-0 draw at Wembley look?
Today, decades on from EUROs 1992 and 1996, we are able to measure Scotland's performance, the records of the managers involved and see how close the national team came to breaking out of the group stages.
In 1992 Scotland were making their first appearance in the European Championships led by the man who guided them there, Andy Roxburgh. There was little talk at the time of his players being allowed to find their feet and adjust on this new stage. Instead, they were expected to perform and produce against astonishing odds.
In the opening game in Sweden on June 12 they faced Holland, the reigning European Championship winners and a team blessed with players ranked among the all-time greats.
A central defensive partnership of Richard Gough and Dave McPherson held Marco van Basten at bay and Scotland only conceded once, in the 75th minute, to a Dennis Bergkamp strike.
In their next game three days later and with their chances of qualifying on a knife edge, they faced the reigning World Cup holders, Germany. And again, this was every bit as tight, with the Germans taking two rare chances to win 2-0. This meant that Scotland were out and only had pride to play for against a CIS team which, like Holland and Germany, continued a clutch of world class performers. Over the ensuing 90 minutes the Scots showed their quality and, crucially, were able to take their chances, scoring twice in the first half and with Gary McAllister then hitting a late spot kick to make it 3-0.
Of the teams who did progress from Group 2, Holland went out in the semi-finals to eventual winners, Denmark. Germany went all the way to the finals where they were beaten by the Danes.
Four years later Scotland were back at the European Championships which, this time, were being played in England. Craig Brown, who had stood alongside Roxburgh in the dug-out in Sweden as his assistant, was now in charge of the team and did have a clutch of experienced players to call upon.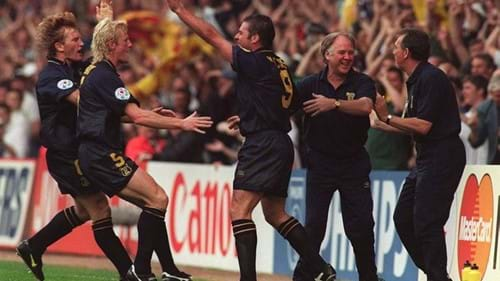 Once again luck, both the luck of the draw and in matches, would go against Scotland.
Against the odds Scotland drew 0-0 with Holland in the opening game and then pushed the host nation all the way in their second group game, losing 2-0 after missing a penalty in freakish fashion. The final group match ended in a 1-0 win over Switzerland, giving Scotland four points and putting them dead level with the Dutch. Ultimately, the consolation strike Holland hit late on in a 4-1 defeat to England, was enough to carry them through on goals scored. Again, Scotland were left to curse fine margins and wonder what might have been.
And today, as supporters assess the achievements of their former managers, Roxburgh and Brown, there is a softening of attitudes, an acceptance of their achievements and recognition of the results they achieved.
Games hosted at Hampden Park in 2021
Glasgow's UEFA EURO 2020 Fixtures
Monday 14 June
Scotland 0-2 Czech Republic
Friday 18 June
CROATIA 1-1 CZECH REPUBLIC
Tuesday 22 June
Croatia 3-1 Scotland
Tuesday 29 June
Sweden 1-2 Ukraine (AET)
Download the UEFA EURO 2020 App