Memory Makers - the people helping to create Football Memories

In this new series of feature stories, we celebrate the people who help to make the Football Memories project happen in Scotland. Join us every fortnight as we spotlight those who give their time and passion to delivering this world-leading programme and official legacy project of UEFA EURO 2020 Glasgow. 
Robert Harvey: Football Memories Volunteer and Area Coordinator, Glasgow
"It keeps people connected. As one gentleman said - I am alone, but never lonely."
Goalposts defined by jumpers and matches at the local park held as great a significance as a European Championship final; Robert Harvey's earliest football memories will resonate with so many of his generation. For Football Memories group members and volunteers alike, red ash pitches and patches of wasteland doubled as international arenas as they spent countless hours of their younger years re-enacting goals scored by Scottish football icons: Law, Baxter et al.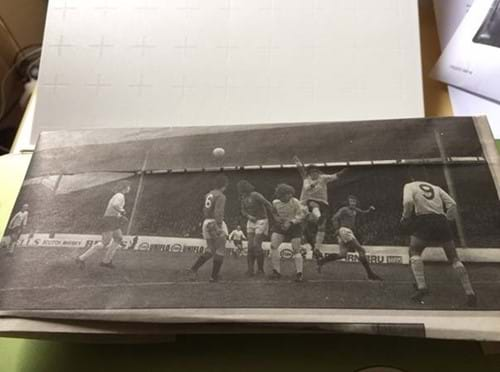 Robert, wearing number 9, playing for Clyde against Rangers at Ibrox, 1974/75 season. 
For Robert Harvey, the dream of following in the footsteps of his heroes quickly became reality, and the national stadium formed the scene of his greatest football memory. A moment which secured his name in history alongside European greats such as Diego Maradona – and one which never fails to leave members of Glasgow's Football Memories groups in awe. He scored on his Hampden Park debut.
Commonly known as 'Bobby Harvey' in his playing days, the 65-year-old holds a treasured memory of the day he was selected to face Queens Park at the national stadium. As a teenager, Robert turned up carrying a pair of leather boots under his arms for a match which he now acknowledges as the highlight of his career. The former Clyde forward recalls: "When I was still a schoolboy, I was picked to make my professional team debut at Hampden Park - it was a New Year's Day game. With one of my first kicks of the ball I scored a goal from about 25 yards."
"I could try that shot again and 9 times out of 10 it would not have hit the back of the net, but the ball would have been lost on the great terraces at Hampden."
Robert taking the shot for Clyde v Celtic in 1977 at Shawfield Stadium in Glasgow. Celtic had won the Scottish Cup the previous week when they beat Rangers. Danny McGrain in the background, who features in the European Legends UEFA EURO 2020 legacy cards.
Having hung up his boots in the 70s, Robert maintained an active interest in the game and found his calling at a nearby Football Memories group. Supporting those in need had always been a passion, and after hearing that Richard McBrearty (curator of the Scottish Football Museum) was involved, he knew it would be a worthy cause.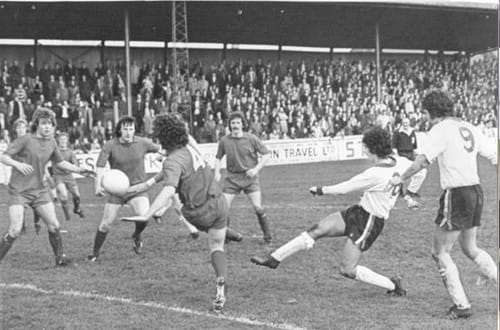 Clyde v Hamilton Accies league game, 1975/76 season. Robert recounts that he hit the bar with this shot. 
Robert explained: "My mother had Alzheimer's disease and I wanted to give something back. Dementia is one of the biggest issues facing our country. If you can help even just one person using Football Memories Scotland to trigger their memories, you will be surprised how they react and feel.
"After attending my first meeting I knew it would be a good way to use my time, football knowledge and life experiences."
Three years on from his first meeting, Robert has become a pillar of the volunteer force and provides invaluable support to group members across Glasgow.
Speaking about the influence of the organisation, he said: "There have been many good people behind Football Memories Scotland for years, and their efforts have made a difference. A Football Memories group is very special - every meeting is different. This is much more than football, which is just the trigger. The conversation can be 101 different things that are important to that person. To see and hear someone who may be struggling with their memory but wants to contribute and take part in the group, it's an incredible thing to be part of. When everyone understands that the purpose is to help others trigger their memories, and experience it for the first time, then they realise Football Memories Scotland is a team game."
"Behind every face there is a story and when something happens to trigger a deep memory that is a special moment."
To commemorate Football Memories' place as an official legacy project of UEFA EURO 2020, a special deck of playing cards has been launched in alignment with the 60th anniversary celebrations. The cards have already been shared with some of the 250 Football Memories groups across Scotland, with the aim of instigating conversations around the greatest players to compete in the European Championships from 1960-1990. Household names of Scottish football, including radio presenter Tam Cowan, even made an appearance at Football Memories groups to help select an ultimate European XI from the cards on offer, prior to lockdown.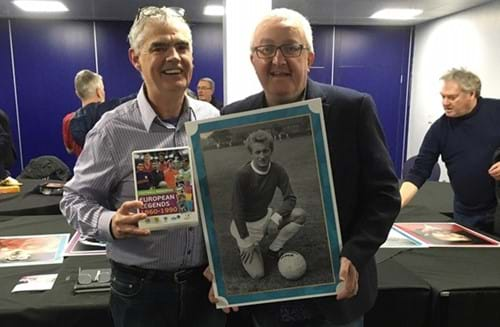 Speaking about the introduction of the EURO legend cards, Robert said: "One of the best topics we had was when we were asked to contribute to selecting 55 players and five managers to be used for the card pack. It took us several sessions to finalise the names. There have been so many great players from countries across Europe and it was not an easy choice. As we all sat around the table the names sparked off so many great stories of the players."
"Behind every one of the Euro cards there is a story."
When asked about his most memorable moment as a volunteer, Robert recalls the day he attended a Football Memories group held at the Jimmy Johnstone Academy in Glasgow.
He explained: "We were all sitting around the table with the football photos and memorabilia and a new gentleman joined us along with his carer. He had early stages of Alzheimer's and after about 15 minutes he became a bit restless. This is not uncommon, so we took him a walk through to the football dressing rooms in the academy.
"In the dressing room the jerseys were hanging up on their pegs: there were some football boots and a ball, and the smell of a football dressing room. It was like a light going on. He stood in the centre of the dressing room, looked around, and started to talk.
"At school he had been a ball boy for the team (Third Lanark) who played at Cathkin Park. He could remember players names, he could remember some players giving him a few pennies after the game and he could remember his days as a football fan. He was having a conversation with us - his carer could not believe what she was seeing and hearing. Just for a short time this gentleman was standing in the middle of a football dressing room talking about his football memories."
"A football memories session creates so many unexpected moments."
To read more about the launch of the European Legends reminiscence cards to celebrate Football Memories Scotland's official legacy status for UEFA EURO 2020 Glasgow, click here. 
Games to be hosted at Hampden Park in 2021
Glasgow's UEFA EURO 2020 Fixtures
Monday 14 June
Scotland VS Czech Republic
Friday 18 June
CROATIA VS CZECH REPUBLIC
Tuesday 22 June
Croatia VS Scotland
Tuesday 29 June
ROUND OF 16 MATCH
Download the UEFA EURO 2020 App