Spotlight on schools...St Ninian's East Renfrewshire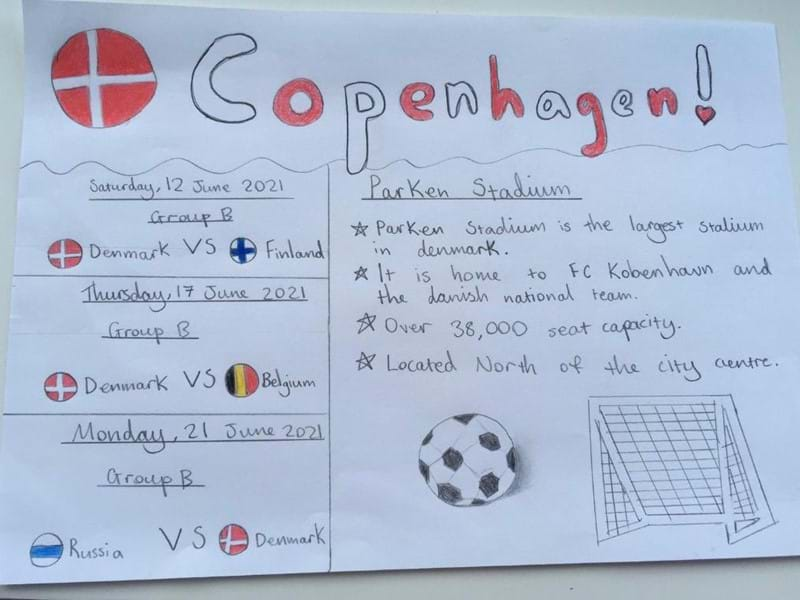 The halls of St Ninian's High School in the Southside of Glasgow are decorated by the signed shirts of Andy Robertson which hang as inspiration for those who walk the corridors. Thanks to the success of the school's renowned former pupil, and Scotland's historic qualification for UEFA EURO 2020, the Giffnock school's online classrooms have embraced football studies for the first time.
One individual who has watched the Scotland captain's rise more closely than most, both on and off the pitch, is St Ninian's teacher Giuseppe Capuano. For Mr Capuano, Andy Robertson was not just one of the school's "lively" PE students; he was also a teammate."
Well done to former @stninianshigh pupil @andrewrobertso5 - what an AMAZING achievement! Everyone in East Renfrewshire is so proud of the part you've played in helping @LFC win the @ChampionsLeague ⚽ 🏆 👏 #WeAreEastRen pic.twitter.com/zb0w3xSjnY

— East Renfrewshire (@EastRenCouncil) June 1, 2019
As a 17-year-old schoolboy, young Andrew Robertson burst onto the scene with a Queen's Park team which featured Mr Capuano - a new recruit of the St Ninian's PE department - who was an established squad member.
Having swapped the national stadium for St Ninian's' gym halls, the now Principal Teacher of Physical Education and Health & Wellbeing hopes to capitalise on Andy's success by establishing football as a key part of the curriculum through the Learning Through Football teaching tool.
Mr Capuano said: "When Scotland qualified for UEFA EURO 2020 there was a real buzz in the school. As a former student, we often use Andy as a positive role model for pupils at St Ninian's. Teachers in our PE department had seen a TV news report focussed on a primary school in Glasgow which had launched the resources and thought it would be an excellent way to engage our pupils during lockdown."
Less than five miles from Hampden Park, pupils of St Ninian's have grown up in the shadows of the national stadium and are set to witness some of Europe's top players visit their home city this summer. Eager to stimulate interest in home-schooling activities, Mr Capuano was quick to introduce the UEFA EURO 2020 based projects following Scotland's qualification for the tournament.
"We are always trying to provide pupils with skills that prepare them for life beyond school and this has allowed us to do that. Some examples of lessons that we have developed include match reporting, psychology and sports nutrition. Pupils have even created a mascot for the tournament and developed their budgeting skills by planning an opening ceremony," he said.
Next week's Euro 2020 task will involve pupils learning about the various roles involved in football⚽️🏴󠁧󠁢󠁳󠁣󠁴󠁿#LearningThroughFootball #DYW @stninianshigh @GlasgowEURO2020 pic.twitter.com/NjFyqMDqoo

— St Ninian's PE & HWB (@stninianshighpe) January 29, 2021
As part of the online learning programme, St Ninian's has proactively incorporated Learning Through Football activity ideas into lessons which combine physical education with other curriculum areas. Mr Capuano added:
"It has allowed pupils to link their learning across the curriculum as we have created tasks focussed on various areas including health and wellbeing, literacy, numeracy, art and social subjects."
Weekly projects have included:
Week 1 - Social subjects: focused on researching a host city and designing a poster for the location.

Week 2 – Literacy: taught pupils how to write a match report based on the play-off final match against Serbia.

Week 3 - Health and well-being: pupils learned about the importance of sports preparation and created their own warm up.

Week 4 - Health and well-being: pupils gained insight into the diet of an athlete and created a pre-match menu.
Some more excellent examples of pre match meals made by our @stninianshigh pupils 👏🌟🍝 #learningthroughfootball #glasgoweuro2020 pic.twitter.com/de0z9hItng

— St Ninian's PE & HWB (@stninianshighpe) February 16, 2021
Discussing the extensive range of resources available, Mr Capuano outlined: "These projects have really captured the imagination of pupils and the engagement has been excellent across various tasks that we are assigning.
"Pupils in S1-S4 classes are working through the projects, meaning that we have approximately 900 pupils engaged online on a weekly basis. Engagement has been excellent, and the quality of work has been outstanding."
One thing that the school's staff can all agree on is the positive response football-based activities have attracted, galvanising pupils with varying interest in the national game.
"The online resources have been excellent and have given us a great starting point to create really engaging and informative lessons. All lessons link to the curriculum and use the UEFA EURO 2020 competition as a vehicle to capture the pupils' imagination and learn in a fun and interesting way," Mr Capuano added.
Well done to all @stninianshigh pupils who completed last weeks Euro 2020 task. Here are some more examples of the excellent work produced 👏🌟⚽️ pic.twitter.com/oFDFv1136J

— St Ninian's PE & HWB (@stninianshighpe) January 25, 2021
St Ninian's has become part of the strong online community advocating use of the resources alongside many other schools including Holytown Primary School and Madras College. Fitting with St Ninian's' school motto 'Floreat Iuventus' (let youth flourish), the school is also keen to express its desire to share experiences with the wider education community.
Speaking about his interaction with the Learning Through Football tool, Mr Capuano said:
"We have shared examples of pupils work on our Twitter account (@stninianshighpe) and would be happy to share lessons that we have created with other schools if this would be of benefit."
"We hope that this project will inspire pupils to develop a newfound interest for football and the Scottish National team or deepen an already keen interest of the sport and the upcoming UEFA EURO 2020 tournament."
Another excellent match report, this time produced by Alexander (S1), in this weeks BGE Euro 2020 project 👏🌟⚽️🏴󠁧󠁢󠁳󠁣󠁴󠁿 #LearningThroughFootball @stninianshigh @GlasgowEURO2020 pic.twitter.com/W99AWYD0g2

— St Ninian's PE & HWB (@stninianshighpe) January 29, 2021
For project ideas and inspiration, we encourage teachers, parents and guardians to continue collaborating and sharing their work on social media by using #LearningThroughFootball, #EURO2020 and tagging @GlasgowEURO2020."
Games hosted at Hampden Park in 2021
Glasgow's UEFA EURO 2020 Fixtures
Monday 14 June
Scotland 0-2 Czech Republic
Friday 18 June
CROATIA 1-1 CZECH REPUBLIC
Tuesday 22 June
Croatia 3-1 Scotland
Tuesday 29 June
Sweden 1-2 Ukraine (AET)
Download the UEFA EURO 2020 App