Memory Makers #3 - the people helping to create Football Memories

When a young Alan Barron turned up at Pittodrie for a Scotland v England under-23 fixture in February 1965, little did he know that he would gain a glimpse at some of the future legends of international football.
Despite witnessing a 0-0 draw on a cold Wednesday night, the recollection of standing on the terrace as a schoolboy has lived in his memory ever since as he closely watched a Scotland side captained by no other than Billy Bremner.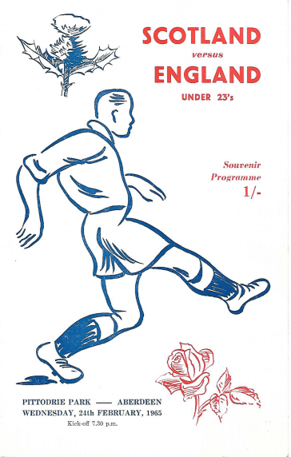 The first of the great Scots many battles with an old enemy side which boasted the young talents of Nobby Stiles and Alan Ball – two players who would lift the World Cup the following year. A mere two seasons down the line, the aforementioned players would all star in an international match in front of a packed Wembley Stadium which resulted in Scotland's 3-2 victory; securing the iconic title as the Unofficial World Champions of 1967.
#TBT to 1967 & Scotland beating England 3-2 at Wembley. The match also included this lovely show of skill by Jim Baxter. #ENGSCO pic.twitter.com/CxuFfhLx6t

— Scottish FA (@ScottishFA) November 3, 2016
Alan's early brushings with football greats would set the tone for his dealings with the sport. Speaking about his greatest football memory, Alan fondly recalled the European Cup Winners' Cup Final in 1983, famously won by the renowned Aberdeen team which defeated European giants Real Madrid in Gothenburg.
"I was there and don't think that evening will ever be topped!"
"I have been football-daft all of my days and have a reasonable breadth of knowledge of Scottish, UK, European and world football since the mid-60s. I have books, programmes, scarves and trinkets galore from matches attended around the world," Alan expanded.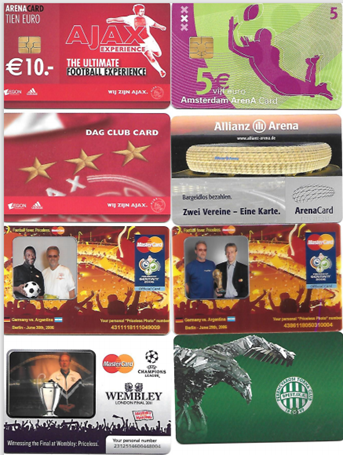 A selection of Alan's club member cards (Ajax, Ajax, Ajax, Bayern Munich, WCQF 2006 Berlin x2, CL 2011, Ferencvaros)
With such an array of football memories and memorobillia in his collection, it was only a matter of time before Alan found his calling at a local Football Memories group. Speaking about how he became involved in the sessions, Alan credits a chance meeting with Michael Craig of the Inverurie Loco Works group at a music concert in Aberdeen.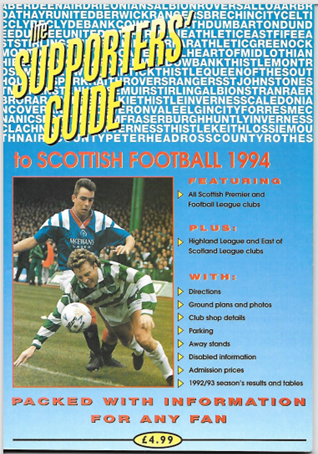 "I was aware of the existence of local Football Memories groups so when I was approached by Michael to assist, I jumped at the chance. When I was invited, I couldn't wait to play my part."
It didn't take Alan long to leave a lasting impression on group members, and before he knew it, he was asked to take an active role in leading the sessions.
Alan explained: "After attending a handful of Football Memories meetings I had to fly solo. That session flew by as the attendees reacted positively to my World Cup related trinkets and programmes from 1966-2006, leading to animated discussions."
"It is really rewarding to see the faces of our participants light up when their recollections flood back." Like many other Football Memories groups across the nation, Inverurie Loco Works sessions have continued to thrive throughout lockdown thanks to support from Alzheimer's Scotland. Despite initial challenges, volunteers reacted exceptionally to ensure that the meetups could remain a staple of their members' week.
Alan continued: "Our Football Memories Group was inactive for roughly the first month of lockdown. Discussions took place with our Alzheimer's Scotland representative and after a test run with a technology solution we invited our participants to rejoin us. Their enthusiasm to resume our sessions was great."
"It has been great to find a way to deliver sessions after the restrictions came along. I find it really rewarding to see our participants react to materials and recently televised matches. They come alive with their recollections of matches, players and events around those."
Whilst the reminiscence groups feature stories dating back many decades, Scotland's historic qualification for UEFA EURO 2020 has dominated recent discussions and is set to have a positive impact on generations to come.
Recalling major talking points in the last few months, Alan expressed: "We have discussed the progress of the national team through the UEFA EURO 2020 group stages and then qualifying via the two penalty shoot-out nail biters!"
"The smiles on the faces of our participants are so rewarding to see."
When asked about his most memorable moments as a volunteer, Alan pointed to the positive effect on members which is all the motivation he needs to volunteer with the group. He explained: "Wives have referred to their husbands coming away from sessions buzzing and looking forward to the next one. We endeavour to ensure that our participants are brought into discussion if we notice anyone being quiet. The contributions of all attendees are valued."
"We try to keep the topics light and to ensure that opportunities to laugh about events are shared with the group."
Alan's fondest memories have been created by the vast and diverse range of stories which emerge within each meeting as he acknowledges that the hidden gems are what make the sessions so special.
He remembered: "When I started, there was an attendee called Bob who had great childhood stories about getting lifts over the turnstiles in Glasgow; he also had stories of attending the Real Madrid v Eintracht Frankfurt final at Hampden."
"A lad called John had been in the merchant navy which took him to Brazil, amongst other countries, and he had tales of seeing the great Garrincha in the Maracanã. Another memory that he shared with us related to when he was Harbour Master at Fraserburgh at the time of the lifeboat disaster that saw a full-strength Celtic play a fund-raiser against 'The Broch' only a week before their European Cup final encounter with Feyenoord. He had proudly sat next to the great Jock Stein at the dinner associated with this match."
"They are all great lads all who I remember fondly from my early days as a volunteer with the Inverurie Loco Works Football Memories Groups."
Legacy 
Football Memories is an official legacy project of UEFA EURO 2020 Glasgow and a special deck of commemorative reminiscence cards have been produced to celebrate this. 
To read more about the launch of the European Legends reminiscence cards, click here. 
Games hosted at Hampden Park in 2021
Glasgow's UEFA EURO 2020 Fixtures
Monday 14 June
Scotland 0-2 Czech Republic
Friday 18 June
CROATIA 1-1 CZECH REPUBLIC
Tuesday 22 June
Croatia 3-1 Scotland
Tuesday 29 June
Sweden 1-2 Ukraine (AET)
Download the UEFA EURO 2020 App