Refugee charity in Glasgow to benefit from remaining UEFA EURO 2020 Volunteer Programme kit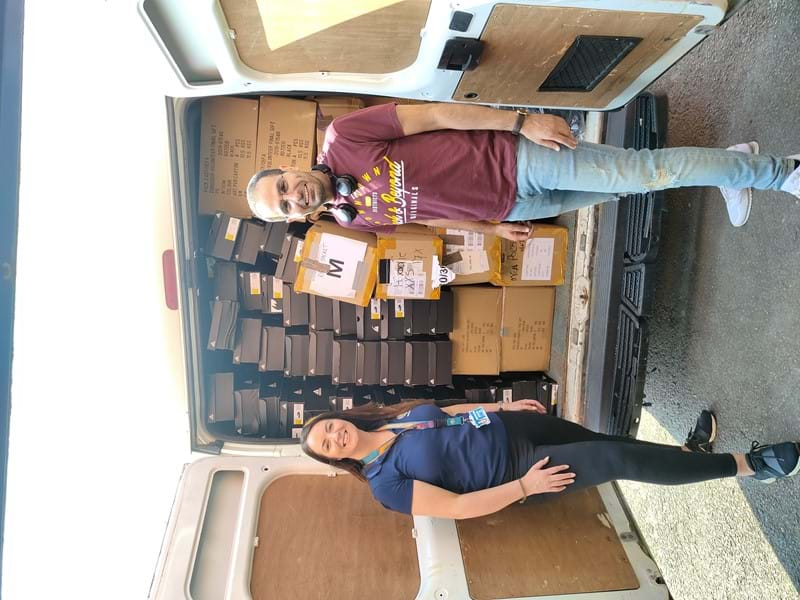 Following the conclusion of UEFA EURO 2020 in July, the team at Hampden Park has been working to de-rig the venue and gather together all leftover items.
The final number of Volunteers who were part of the UEFA EURO 2020 Volunteer Programme was reduced as a result of the Covid-19 pandemic, resulting in some of their kit items remaining in stock at the stadium. Kit included backpacks, hooded tops, t-shirts and trainers. 
As the current refugee crisis in Afghanistan worsens, the team at Hampden Park contacted local Glasgow-based charity Refuweegee to offer the kit in support of the work they do to support refugees in crisis.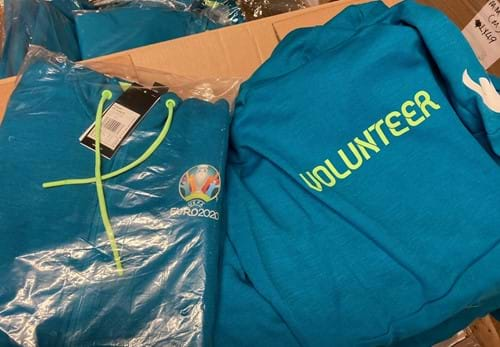 UEFA EURO 2020 Volunteer items donated to Refuweegee included warm hooded tops.
UEFA EURO 2020 Volunteer Manager Claire Garratt said, "It's impossible not to be devastated by the current plight of the people of Afghanistan, and the work done by Refuweegee in our city to support people in need is wonderful. We are delighted to see the leftover kit going to help people who need it most, especially with winter approaching."
The kit has been warmly received by the charity, who are already utilising and distributing the kit in welcome packs around the city.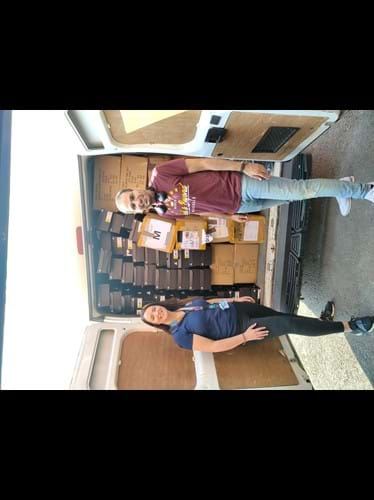 UEFA EURO 2020 Volunteer Manager Claire Garratt with a Ahmad from Refuweegee.
Hannah Gibbons, Operations Manager at Refuweegee said, "We have been facing a backlog of requests for help recently and are expecting many more with the incoming refugees from Afghanistan, so this donation will go a long way to helping us get our packs out to help people who have nothing and are starting a new life here in Glasgow. To receive new, unopened items is a real bonus and including these items in our packs helps to show refugees that this city welcomes them warmly. We are delighted to receive this donation."
About Refuweegee
Refuweegee was set up by Selina Hales in December 2015 to provide a warm welcome to forcibly displaced people arriving in Glasgow. To date they have provided over 10,000 community-built, personal welcome packs and emergency support packs to people all over Glasgow and across Scotland. Through their welcome packs, events and volunteer opportunities, they try to provide everyone who wishes to get involved with an opportunity to do so; by writing a letter, donating essential items, joining an event or fundraising.
Their very simple objective is to make the world a nicer place to live. They are currently running a drive for welcome packs, and in the current situation with Afghanistan, would welcome any support - more information on their welcome packs can be found in this thread on Twitter: 
Help us to welcome Refuweegees to Glasgow by building Welcome Packs! 🎒💌

These bags full of toiletries & other wee treats are given to recently arrived families & individuals, to help them feel at home in their new city.

Here's a wee thread to make donating simple & impactful. pic.twitter.com/gg25ijAUiB

— Refuweegee 🧡 (@Refuweegee) August 23, 2021
Find out more
You can read more about the work of Refuweegee on their website: www.refuweegee.co.uk.
Games hosted at Hampden Park in 2021
Glasgow's UEFA EURO 2020 Fixtures
Monday 14 June
Scotland 0-2 Czech Republic
Friday 18 June
CROATIA 1-1 CZECH REPUBLIC
Tuesday 22 June
Croatia 3-1 Scotland
Tuesday 29 June
Sweden 1-2 Ukraine (AET)
Download the UEFA EURO 2020 App