On the cusp of history

As the Tartan Army ready their sofas to support the boys in Belgrade on Thursday night, we reflect on the road to the finals for Scotland in this UEFA EURO 2020 campaign, and look back on the historic quest of the national team for a place in the European Championship. 
With confidence at an all time high following their run of eight wins in eight games, Scotland is sitting pretty atop their Nations League group having beaten Slovakia at home and Czech Republic both home and away in their October triple-header. 
In the words of semi final play off winning penalty shooter Kenny McLean, there's 'no time for fear' as the team, and everyone at home, crave an end to their decades-long absence from the footballing world stage: it's been 23 years since Scotland were part of a European Championship and 25 years since they enjoyed World Cup action. 
"We need to be confident, we need to be everything that will take us to the next stage. It is going to be a very tough game - demanding, aggressive, everything. We need to be ready for that. I have got absolutely no doubt we will be." Kenny McLean
A rocky road  
No one could have predicted how not only this EURO 2020 campaign would unfold, but of course the entire global crisis in the midst of Covid 19's grip. With just days to go until their original play off semi final qualifier at Hampden Park against Israel on 26 March, the tournament was postponed and all international fixtures were put on ice. 
When the two sides did meet in October at the national stadium, fans had to wait, poised on the edges of their seats, for extra time to conclude without a goal, before enduring the dreaded penalty shoot out. David Marshall stopped Israel's first spot kick and in a heroic show of grit Kenny McLean scored the winning goal to make the final score 5 -3. They'd done it!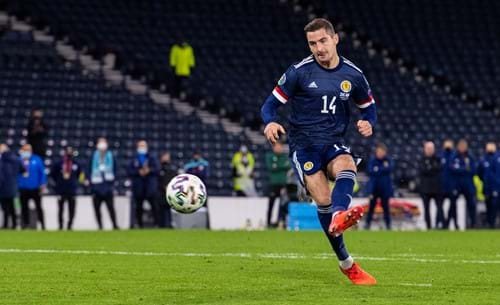 Kenny McLean hits home the winning penalty at Hampden Park to secure Scotland a place in the play off final. 
Read more about the semi final match here. 
Scotland earned their play-off place by winning the Nations League Group C1, with Israel second. Scotland, then managed by Alex McLeish, lost 2-1 away to Israel in October 2018 before beating them 3-2 at Hampden the following month to top the group. The national team finished third in qualifying Group I, with Israel coming fifth in Group G.
Scotland at the EUROs
The first UEFA European Football Championship took place in France in 1960 and featured only 4 teams. Taking place every 4 years since then, the competition has varied in format and the participating teams have increased in number dramatically. This latest edition of the anniversary tournament will feature 24 nations, 4 of whom are competing for the final spots via the play off finals, including our own Scotland National team. 
The tournament has taken place every four years since with host nations including Italy, Spain, Belgium, Sweden and England. While the competition may have changed in format and increased in number throughout the years, it remains a glorious celebration of the beautiful game. Scotland have played a number of memorable qualifying campaigns and reached the finals on two occasions, playing both events during the 1990s.
Ally McCoist was responsible for Scotland's last win at a major finals, striking the ball from 25 yards into Switzerland's net during EURO 1996.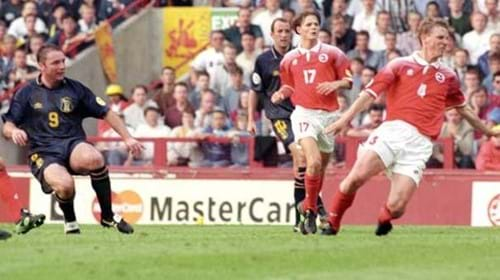 This treasured moment, along with so many incredible footballing memories that the European Championship has given fans over the years, was captured for The Hampden Roar Travelling Football Exhibition, which toured Scotland in October 2019 to celebrate Glasgow's hosting of EURO 2020. 
The travelling exhibition gathered fans' favourite EUROs moments, with Ally's goal coming top of the nation's beloved memories, and showcased memorabilia from special matches, all in the company of the Championship trophy, the beautiful Henri Delaunay Cup. 
What's your favourite EUROs moment?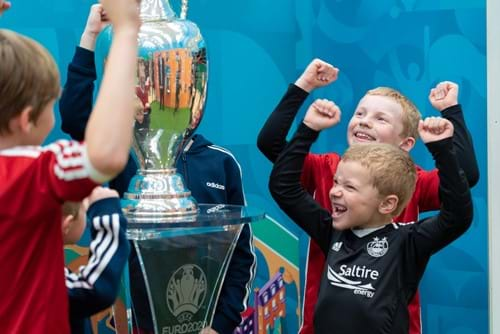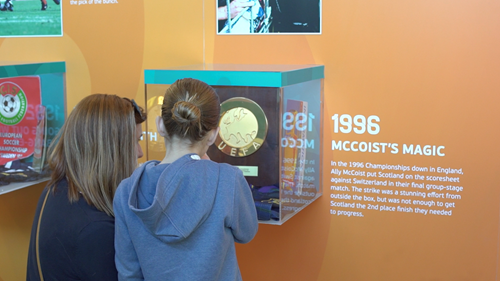 Find out more about the Hampden Road exhibition here.
Successive managers have valiantly competed in the qualification rounds in an effort to guide Scotland to another European Championships, with near misses for the 2000 and 2004 tournaments and a final match defeat against Italy in the bid to reach Euro 2008. 
A unique EURO for 2021 
This 60th edition of the Championship was postponed in March this year, following the global pandemic, until summer 2021. The new dates are 11 June – 11 July 2021. The tournament will still carry the title 'EURO 2020'. UEFA and all 12 original host countries are committed to working towards delivering this special edition of the competition across Europe, despite the uncertainty that the pandemic brings. Read more about the hosts here.
The group stage draw took place in Bucharest on Saturday 30 November 2019. Read more on this here. 
The 20 teams that qualified via the groups will be joined by the four play-off winners.
Group A: Turkey, Italy, Wales, Switzerland
Group B: Denmark, Finland, Belgium, Russia
Group C: Netherlands, Ukraine, Austria, play-off winner D or A
Group D: England, Croatia, play-off winner C, Czech Republic
Group E: Spain, Sweden, Poland, play-off winner B
Group F: play-off winner A or D, Portugal, France, Germany
Thursday will be a big night of footballing action as 8 teams do battle to secure their place in the final tournament in 2021, happening across 12 host countries for the first time in the competition's 60 year history, to mark the special anniversary. Hungary take on Iceland, Slovakia travel to Northern Ireland and North Macedonia challenge Georgia at home for their spot. 
For all final tournament fixture listings click here. 
UEFA's match previews for all finals fixtures here.
It will be coming...
The magnitude of the task at hand for Scotland isn't lost on anyone, with even Sky offering the match as free-to-view on Sky Pick. 
Scotland, we are all behind you. Let's do this! 
Games to be hosted at Hampden Park in 2021
Glasgow's UEFA EURO 2020 Fixtures
Monday 14 June
Scotland VS Czech Republic
Friday 18 June
CROATIA VS CZECH REPUBLIC
Tuesday 22 June
Croatia VS Scotland
Tuesday 29 June
ROUND OF 16 MATCH
Download the UEFA EURO 2020 App