Ceferin impressed by Hampden Park's rich history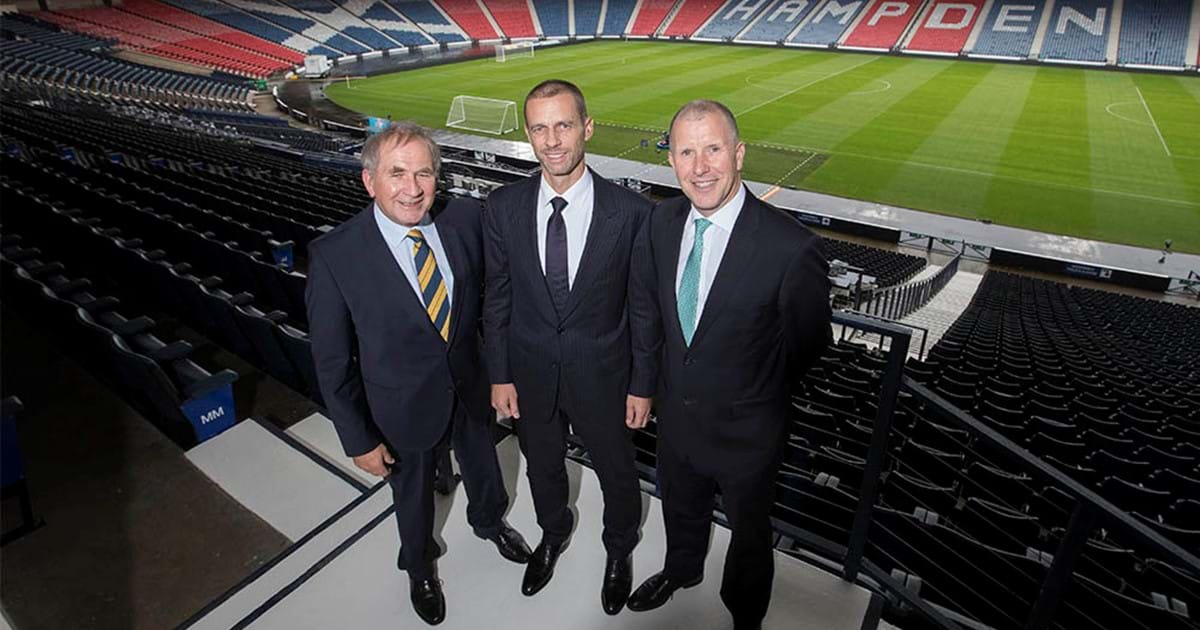 UEFA President Aleksander Ceferin visited Hampden Park in recognition of the successful completion of the first phase of UEFA EURO 2020 stadium development works.
Ceferin was joinedy by Scottish FA President Alan McRae, Chief Executive Stewart Regan, Scottish Government Minister for Public Health and Sport Aileen Campbell and Deputy Leader of Glasgow City Council David McDonald, along with the Scottish FA Board and the UEFA EURO 2020 Local Organising Committee (LOC).
Hampden Park will play host to three Group Stage matches and a Round of 16 game for the championships, which will be held in 13 different cities across Europe.
As part of the preparation for the tournament, new LED giant screens have been installed inside Hampden Park, in addition to 26 new skyboxes that have been constructed across the South Stand. Two sky lounges have also been fitted-out in the North Stand to enhance the hospitality experience in line with UEFA EURO 2020 Tournament Requirements.
The UEFA President toured Hampden Park to learn more about the history of the stadium and Scottish football.
In conjunction with the Scottish Government's Women and Girls in Sport week, Ceferin also met the players and staff of Pollok United Soccer Academy at a training session, in alignment with UEFA's #EqualGame campaign.
#EqualGame is a new UEFA RESPECT social responsibility campaign aiming to positively promote inclusion, diversity and accessibility in football throughout Europe, along with Together #WePlayStrong, another UEFA initiative to inspire more girls to play football.
Pollok United possess a thriving girls section, led by Jane Lavery, who won the Merit Award for Services to Grassroots Football at the 2017 McDonald Grassroots Awards.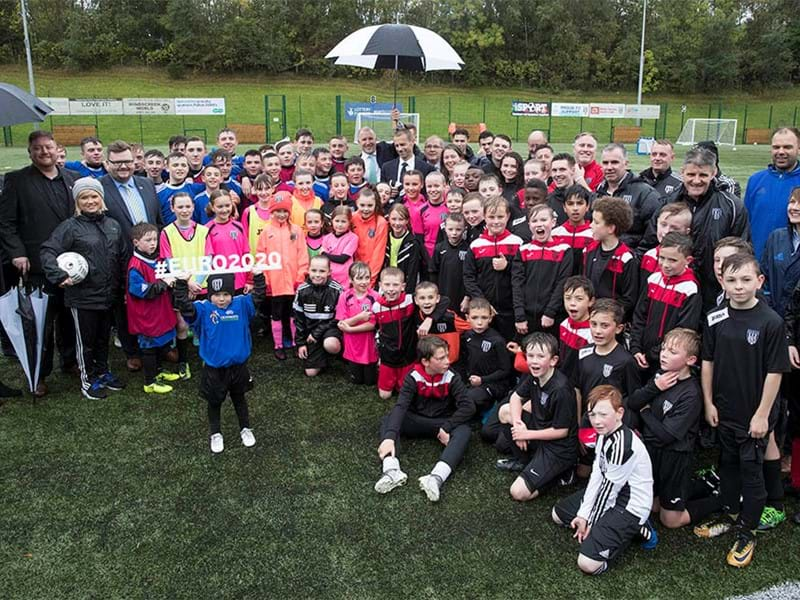 Scottish FA President Alan McRae said: "Glasgow and Hampden Park will be an important part of the UEFA European Championship finals, celebrating 60 years of one of the most exciting and unpredictable tournaments in world football and preparations are already under way.
"The new giant screens have helped the stadium to become more interactive with spectators and the newly renovated skyboxes have helped improve our ever impressive hospitality services on a game day.
"These new facilities have been pivotal in the stadium recently winning two prestigious hospitality awards."
UEFA President Aleksander Ceferin said: "UEFA EURO 2020 will be an exceptional tournament with 13 countries all contributing to hosting the competition.
"Glasgow is a fantastic footballing city steeped in tradition and Hampden Park will provide the perfect setting for four matches.
"I enjoyed visiting Pollok United in the southside of Glasgow and seeing the impressive work done by grassroots clubs in Scotland."
Scottish Government Minister for Public Health and Sport, Aileen Campbell said: "Scotland is passionate about football and we have a proven track record of hosting spectacular sporting events. I am confident the games we will host for UEFA EURO 2020 will be no different and I hope our national team will be represented.
"Women and girls' football is a priority and – with participation and attendance at games growing – it was particularly pleasing to see Aleksander Ceferin take the time to visit Pollok United Soccer Academy and witness the work done at a grassroots level to inspire the next generation and continue the development.
"This is particularly timely during this historic first Women and Girls in Sport Week, and following our national team appearing at their first ever major tournament in the summer."
Games hosted at Hampden Park in 2021
Glasgow's UEFA EURO 2020 Fixtures
Monday 14 June
Scotland 0-2 Czech Republic
Friday 18 June
CROATIA 1-1 CZECH REPUBLIC
Tuesday 22 June
Croatia 3-1 Scotland
Tuesday 29 June
Sweden 1-2 Ukraine (AET)
Download the UEFA EURO 2020 App