Remembering the beautiful game - World Alzheimer's Awareness Day

"I'm delighted that Football Memories is a UEFA EURO 2020 legacy project. It is an excellent initiative which gives so many people the opportunity to engage with football, unlock memories and share their love of our beautiful game." 
Aleksander Čeferin, UEFA President. 
When the UEFA President visited Hampden Park in 2017 to see first-hand the development work at the stadium for UEFA EURO 2020, he was introduced to the work of Football Memories Scotland. Fast forward to February 2020, and the programme was launched as an official legacy project for UEFA EURO 2020 Glasgow. The European Championship itself may have been postponed until the summer of 2021, but the work of Football Memories has continued, and developed, in the months since the Coronavirus global pandemic struck. We spoke to project director Richard McBrearty about the evolution of this special programme. 
Richard, please tell us how Covid-19 and the recent months have affected the project and the people involved in Football Memories?
As you would expect Covid-19 has had a major impact on the Football Memories programme. Within a few short days in March the community programme shut down as it was not safe for people to meet up. Our care home groups which account for around 50% of our entire operation were also greatly impacted as the care sector found itself at the entre of the pandemic. The biggest challenge has been reaching out to individuals who had been benefitting from meeting up in our groups.
The majority of group participants within Football Memories are from our elderly population and for many of them getting access to technology can be difficult. Where possible we have tried to maintain contact with volunteers and we are in regular contact with our Regional Coordinators.
How have you been adapting in this time to continue to support those involved?
Football Memories has moved significantly into digital communications. We produce two digital reminiscence publications each week which we are offering them free so that as many people as possible can access our resources. It is of course not possible for groups to meet up in public at present and but there have been a variety of ways in which people have been able to feel connected.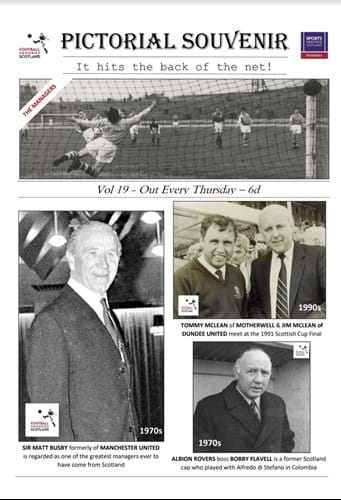 An example of a recent Pictorial Souvenir publication.
One of the uplifting aspects of the last few months has been the reaction of volunteers and staff in individual groups and organisations. Clever and sustainable ideas have manifested at grass roots level and the project, as a result, has proved to be resilient. Various platforms like Zoom are being used to connect people together. Social media platforms like Facebook and Twitter have been used to post up reminiscence material and spark discussion and debate. Quizzes and podcasts are also being used to keep people connected.
We also work with partner organisations like Alzheimer Scotland and Football Club Community trusts who have staff and volunteers providing support and copies of our reminiscence publications, for example, are being printed off and posted through letter boxes so that people can access them.
Being a EURO 2020 legacy project, what does that mean to you and the team/project?
Prior to the pandemic, the EURO 2020 legacy status was a prestigious accolade which was going to enable us to create exciting new resources and help Football Memories develop further as a project and reach a much wider audience. Now, however, as we continue to deal with the impact of the pandemic, the legacy project will act as a vital catalyst in helping Football Memories Scotland to re-emerge in a stronger position than we ever could have hoped for.
It has been hugely important to me on a personal note as I was a member of the Scottish FA Bid team which helped to bring the tournament to Scotland and as Project Director of Football Memories Scotland it is a huge opportunity to harness the power of the Euros in a meaningful way to support some of the most vulnerable and isolated people in our society.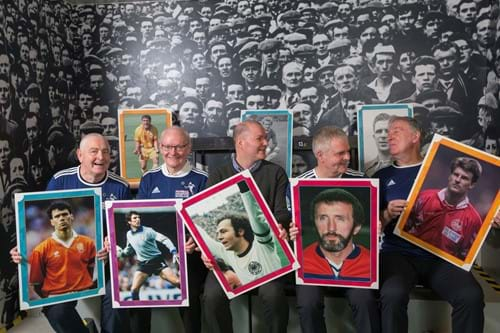 Richard and some of the Football Memories Volunteers at the launch of the EURO 2020 legacy project, February 2020.
What's next for Football Memories?
We are already looking ahead and planning on various fronts. The digital resources are definitely here to stay and will be part of our programme long after Covid 19 has diminished. We are now planning a larger weekly digital newspaper as well as a weekly audio newspaper and are looking into developing a reminiscence podcast. We will open up the collections of the Scottish Football Museum more than we have ever done to drive forward the digital programme.
We will start planning ahead for re-establishing the groups once it is safe to do so and the UEFA Euro 2020 programme will be central to this. With hundreds of European Legends activity packs and volunteer shirts to hand out in the coming weeks and months, we hope to use the tournament as a foundation for the relaunch of the community groups. We will also increase our support to the care homes and NHS hospitals which have Football Memories groups and will look to expand on the number of groups within the care sector in general.
We are looking to develop our digital archive so that thousands of new reminiscence resources are added. Not just new digital images which are great memory triggers in their own right, but also audio tracks and audio-visual clips. Finally, we intend to launch an organisational website which will promote the project and encourage new volunteers to step forward.
With thanks to Richard for this interview and to the whole team of Football Memories Scotland staff, Volunteers and Co-ordinators who have been working to keep this fantastic project afloat during these difficult times. 
Richard was on BBC Radio Scotland's Afternoon Show on Thursday 24 September to mark World Alzheimer's Awareness Day. Listen below to his interview at 1hr 4 mins: 
https://www.bbc.co.uk/sounds/play/m000mq48
Read more about the launch of the European Legends legacy cards in February 2020 here. 
Pick and submit your Hall of Fame legends here. 
Find out more about Football Memories, including how to get involved, here. 
Games to be hosted at Hampden Park in 2021
Glasgow's UEFA EURO 2020 Fixtures
Monday 14 June
Group D match
Friday 18 June
Group D match
Tuesday 22 June
Group D match
Tuesday 29 June
ROUND OF 16 MATCH
Download the UEFA EURO 2020 App