Hampden Park ready to shine for UEFA EURO 2020 with new LED lighting

When the world tunes in for the UEFA EURO 2020 matches at Hampden Park next summer, the action on the pitch will shine even more brightly than usual, with the installation of a new LED lighting system featuring cutting-edge special effects technology.
In preparation for hosting this global event, the stadium needed a new lighting system that would meet the UEFA Elite A Category standards, the highest requirements set forth by UEFA. Additionally, the most advanced special effects lighting technology was sought to create a new level of entertainment experience for players and fans in the stadium.
Hampden Park Limited, the Scottish FA and the EURO 2020 Local Organising Committee which includes the Scottish Government, worked in partnership with the tournament's Mechanical and Electrical Consultant Engineers, Hulley and Kirkwood Ltd, to design a new LED floodlight system for the stadium to meet the strict criteria set by UEFA.
Following a detailed tender process with industry leaders in LED field of play sports lighting, Musco Lighting was appointed and successfully delivered the new system in March this year, just prior to the postponement of the tournament due to the COVID 19 global pandemic.
Ian Maxwell, CEO, the Scottish FA said, "We are delighted with the new Musco installed lighting system, which will enhance the fan experience here at Hampden Park for the forthcoming UEFA EURO 2020 qualifiers and of course the final tournament matches that we will proudly host in June 2021. The legacy of hosting this prestigious tournament will bear fruit for years to come for fans as they enjoy football once again in Scotland's National Stadium."
No Scotland, No Party! 
The new LED interactive floodlight system was switched on to get the party started as Scotland's qualification celebrations kicked off in Belgrade on 12 November, with a video title No Scotland, No Party – the popular chant that has become a lament until now. The classic dance track Bits and Pieces, made famous by legendary Scottish DJ George Bowie, blasted-out over Hampden Park in celebration of qualification for next year's rescheduled EURO 2020 finals. The video was shared across the Scotland National Team's social platforms and went viral, attracting over 750,000 views in total. 
EURO 2020? NOW it's a party.

Let's make next summer unforgettable.#NoScotlandNoParty pic.twitter.com/cP5sPG2W4E

— Scotland National Team (@ScotlandNT) November 12, 2020
Special effects set to dazzle 
The new, customized lighting system features Musco's Total Light Control—TLC for LED® technology. With a reduction in the number of fixtures and wattage from the stadium's previous lighting, it will help cut energy consumption by more than 40 percent. At the same time, the more efficient LED light source technology will improve light levels and uniformity on the pitch. The new LEDs provide 'flicker free' floodlights for broadcasters filming in 4k and UHD and utilise DMX Gateway controls to allow pre-set dimming and theatrical effects to integrate Musco's Showlight+™ entertainment package, which creates cutting-edge light shows and special effects scenes including shows with individual fixtures synchronized to music for exciting pre-match, halftime, and post-match celebrations. The special effects lighting will integrate with the stadium's Daktronics video screens.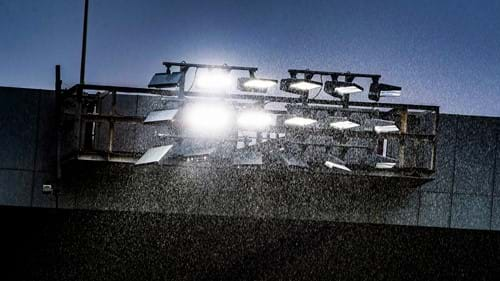 Jeff Rogers, President of Musco World said, "Hampden Park is the national stadium of Scotland, and the UEFA European Championshipis one of the biggest sporting events in the world. Clearly there's a lot of anticipation and excitement with this project. We are proud to be involved with such a historic venue and global event."
John Stewart, project leader for Hampden Park Ltd said, "We were delighted to get the new lighting system installed earlier this year in time for what would have been the Scotland vs. Israel match on 26th March - even storms Brendan, Ciara and Dennis couldn't stop the Musco team from delivering a fantastic product for the stadium and for the fans to enjoy for EURO 2020 and beyond."
World class 
Hampden Park now joins Wembley Stadium in the United Kingdom, Parken Stadium in Denmark, and Aviva Stadium in Ireland as world-class host venues for UEFA EURO 2020 that feature Musco's LED technology. The replacement of the Hampden Park floodlights is the culmination of four years of upgrades and infrastructure projects in advance of hosting the UEFA European Championship, which have included the refurbishment of the Skyboxes and Skylounges to provide a modern and contemporary design and hospitality offering, the installation of a fibre network to provide connectivity throughout the stadium to ensure Hampden is futureproofed for advances in new technologies such as cashless payment systems and supporting the new access control system installed in 2019.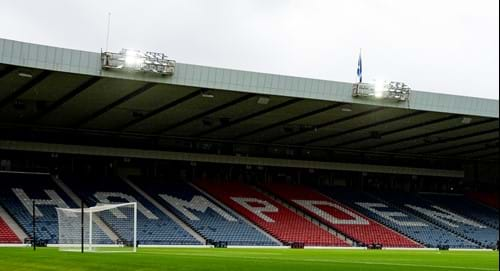 Hampden Park will be ready to deliver the 4 matches of UEFA EURO 2020 in June 2021 and Scottish football fans will continue to benefit from the event's legacy for many years to come.
Hampden Park matches as part of UEFA EURO 2020 will take place on 14, 18, 22 and 29 June 2021. 
Games hosted at Hampden Park in 2021
Glasgow's UEFA EURO 2020 Fixtures
Monday 14 June
Scotland 0-2 Czech Republic
Friday 18 June
CROATIA 1-1 CZECH REPUBLIC
Tuesday 22 June
Croatia 3-1 Scotland
Tuesday 29 June
Sweden 1-2 Ukraine (AET)
Download the UEFA EURO 2020 App